Megapower Additives:
Products to end wear and residue caused performance problems. 

For cars pickups large trucks equipment boats motorcycles. 
Just add, driving does the fix!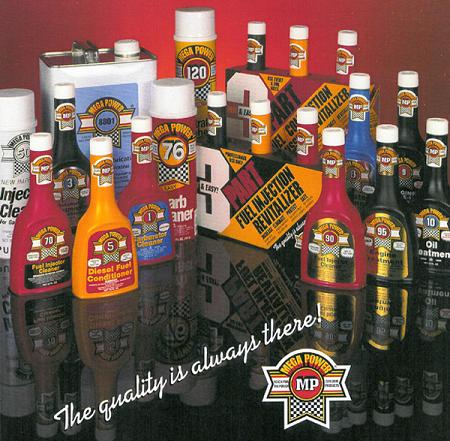 Megapower additives: to ask a question, or to order products listed, Call me at 512 665 3388 ...George
The argument for and against additives
How my perspective about additives will help you.

I'm the country's expert on the use of additives.

Auto-tune-up-and-repair-options.com and other web sites I promote offer you the only educational way to learn about alternative  care and repair.

Liked because they get your cars and equipment running as good as new -

However, the option offered is the fix needed - and no one has found better yet! they avoid or put off need for years of repairs mechanics say are needed for the fix. 


We are talking about help for known and unknown internal parts in engines transmissions, power steering radiator and a/c systems and their problems we found a fix for.

For parts that become worn, sticky moving, residue hampered, and having metal-to-metal friction, that cause some operation or running performance problem they end

They are the fix, or are the inside part of a good tune up and repair! 

Megapower additives contain the most powerful of unique Cleaners, Conditioners, and Anti-wear ingredients: they clean, free, smooth, and protect: to end noise, leak, performance, running, shift, cooling and wear problems in both new an older, even worn cars pickups trucks tractors boats motorcycles.                                                                                                                                          

Diesel and Gas Bio Additives

While all mechanics are trained to replace worn and broken parts, we are not trained to fine and correct problems leading to their premature failure. We are Not Taught How to prevent problems.

That's because the schools training mechanics are funded by billion dollar car makers and part suppliers whose sole purpose is to profit off the replacement of parts.
Megepower Additives should be the choice to do the fix your car and equipment needs! 
Just as medicine and therapy can end certain health problems and prevent the need for surgery - as the cure or fix obtained. So too, with megapower automotive additives as the medicine or health improver for vehicles! For years longer trouble-free results 
However, in all fields, including the field of automotive additives, there are those who promote harmful products. Some ignorant, and some are crooks that do so. They catch those not educated to know better.  This site provides the education needed in a non-tech way any man or women cal follow to use today's megapower additives chemistry to get their vehicles again running good as new!  

My background comes from being a special kind of mechanic - and from taking many engines apart for overhaul. Ad by testing additives to see what their worth is on sick cars and good, brand new ones too!

To have a meaningful test you need to know what the problems are, how they develop, and what product or ingredient in a product helps cure or end, does nothing, or encourages the problem.

Problems in anything mechanical occur from raw friction, oil breakdown, sulfur in the oil and fuel turning acidic, combustion, extreme pressure, and metal-melting temperatures and pressures.

Various test - test each of those: raw friction, oil breakdown, sulfur in the oil and fuel turning acidic, combustion, extreme pressure, and metal-melting temperatures and pressures.

Then test to see if there is improvement. Mega Power additives tested the best!

Of course, mechanics are not trained in any of this! They tell you to use good oils and change your fluids as scheduled. When it fails, bring your vehicle in and thy'll overhaul it. That is their expertise. My Expertise:

From years of such Various testing - to discover what additives end  raw friction, reduce oil breakdown, finding those that acidic conditions, improve combustion, reduce extreme pressure harm from metal-melting temperatures and pressures - few have challenges my advice - backed by such support.

If medicine and therapy will cause noticeable improvement and a return to full health -where surgery is often the cure - so to the right kind of additives and install method  will produce a return to  like near new health of any vehicle  - regardless of age or miles.

MegePower Additives are my choice to do all the things mentioned here. Use of my advice by thousands of mechanics and field results prove the claims I make.

My claim: If the story seems to fit your trouble, the megapower additives remedy given will be the best fix for it!

To protect your new and troublesome vehicles use our megapower additives treatments in your engine transmission, radiator , power steering, and a/c systems. They are made to be installed as  part of your old oil or fluid replacement with easy directions - and quick results shown!

By using a special program that gives live readings of a dozen or more actions going on in your engine and transmission - any improvement from negative to positive, or positive to negative shows what works deep inside. Megapower additives prove best!

And by talking to the few experts in the additive research and sales field - who actually invent real products, I've chosen Mega Power additives, oil treatments, engine, transmission, and fuel treatments from such findings to produce what you might call a revitalizing factor cars need as time goes by.

Those are expert-gaining experiences showing the use of one particular brand of additive called Mega Power, prevents common wear-out speed rates of your pistons, bearings, valves, and gears. My personal experience, and those of motorist and equipment owners using Mega Power have help us gain years longer life, and a like-new performance in all our new, even older, worn vehicles. With Mega Power, our vehicles avoid many common, costly engine transmission radiator repairs - others, using other methods of care have This may give you reason to test for yourself as this page suggest.

By such Mega Power usage experience, we Mega Power "believers" come to the conclusion you pay for Mega Power benefits - even if you don't use Mega Power in costly operation and much shorted vehicle life.

So, investment in bumper to bumper Mega Power treatments are money saving. Why not get them by making Mega Power part of your maintenance care? This page show how...

I'll show you what to use and how and when to use Mega Power on this web site and by phone. I also personally guarantee you will see a power, zip, and bit of fuel economy improvement in any new to old and worn-out car truck tractor, or machine you add Mega Power into - as I show you how to use Mega Power!

In performance test - where you do a tune up, and add any other additive to the motor and drive around the block for a road test, if you compare acceleration test going from low speed - pressing the gas pedal to the floor and holding it there, as the car shifts thru the gears - using any other brand additive or synthetic oil, you will see that Mega Power makes a significant zip and power noticeable difference - if Mega Power is added after any other oil or additive is tested first!

Because Mega Power goes where other additives and oils can't go and restores original function to the affected - problem causing areas - deep inside your engines and transmissions - your original like-new function and horsepower output returns - showing what our claims provide you.

While doing so, Mega Power slams the brakes on the wear-out cycle - for years longer life, long term - and that is what all additives and synthetic oils should do - but only Mega Power does!

Isn't that what you're really after? Sure - and only Mega power provides it! Order Mega Power below now, and get on with real protection.

Therefore, my argument is favorable for only this specific brand called Mega Power for those reasons.

Mega Power product ingredients produce those superior advantages by going to problem areas of your brand new - and even worn older cars and equipment, where no product, no motor oil, even synthetic oils and fuels cannot go to stop acid damage, removes residues, and friction drag. Doing so produces the results I speak of.

That speaks for the case of one brand of additive called Mega Power!

Mega Power - megapower additives, oil treatments, engine, transmission, fuel treatment comes packaged in a 12 oz size treatment form for cars, pick ups, and such. In gallons for large equipment with big oil capacities. And in the set-up shown in the picture for mechanics. Mega Power is made to upgrade your factory 3000, 6000, 50,000, 100,000 mile engine transmission, power steering, and radiator oil and fluid change services. They exceed Mercedes Benz, and all equipment maker specs.
Megapower additives: engine, transmission oil treatments and fuel treatments  with cleaners, conditioners, friction modifiers, and super slippery additives

- which are installed and work in a 2 step manner. Our 2 step easy-to-do steps is what recover power deterring and power absorbing conditions in your engine, transmission, radiator, power steering a/c and drive axles and fuel.
The Mega Power Engine Treatment is a 6 item treatment to service both top and bottom of your engine.
The Mega Power Radiator, Power Steering, and Transmission Treatments come as a 3 item treatment - and provides the same benefits.
The 2 product install steps are:

Add
the pre cleaners. Drive. Then replace the old oil and fluids with new.

Then add the Mega Power conditioners and protectors to the new oil or fluids. That's it! Driving does the actual fix, improvement, and protection!

These 4 Mega Power Component Treatments come with easy to install directions, phone help, guarantee, and shipped to your door by FedEx in about 3 days.>
Mega Power treats to clean restore and protect your cars fuel system [Dealer price $98 or more], cleans fuel injectors [Add $50 to the $150 price], clean idle and air intake system [dealer includes this service], Cleans combustion system [$125 more at the dealer], cleans egr and emission smog systems, o2 sensors [$500 more at the dealer], cleans catalytic converters [$500 up].
Bottom cleanings of your engine valve system [$1500 if replacement], the piston ring system [add $1000 more to the $1500], and the oiling system [add $300 more to the bill. You can see...
Having the most powerful cleaners conditioners and protectors ever made, adding Megapower additives, oil treatments, engine, transmission, fuel, radiator and power steering treatments to your oils and fuel is the best service care you can buy. Works while you drive. Results noted as described.
Order Mega Power and service your cars to protect and extend their lives - Mega Power does not cost - it pays you in many happy ways - a unique product - I'd say! How about it.
For heavy equipment protection, call me for gallon and drum, fleet service, and mechanic resale needs now at 512 665 3388. Order online for one to 3 cars here.... now! Otherwise order below on line.
Mega Power Product description and ordering info for vehicles. A complete vehicle service requires and includes the following treatments for your cars 4 major components that require servicing.
The Mega Power Engine Treatment is a 6 item treatment to service both top and bottom of your engine. Treats up to 3 gallons oil capacity. $90 6 items.
The Mega Power Transmission Treatment. $75 3 items.
The Mega Power Radiator System Treatment. $65 3 items.
The Mega Power, Power Steering System Treatment. $75 3 items
Order the above megapower additives, oil treatments, engine, transmission, fuel treatment, and radiator complete for all your cars trucks RVs.
Order one or more sets here.
For one vehicle Megapower additives = 15 items total as described above for radiator, engine, transmission and power steering. For one vehicle just $290 + $25s&h= $320 -- Now just $190+ $25s&h= $215 total for one vehicle. Save $95 while our special runs.
Order up to 6 sets - for up to 6 vehicles, choose how many sets at check out, for 2 or more vehicles = Just $150 each set X 2 = $300 for 30 items + $25s&h= $325 total for 2 cars total servicing. Save $150 on each 2 additional sets. Order up to 10 sets - choose amount at check out.
Mega Power cleaning and problem-solving conditioners provide the ideal your cars and equipment need for anti-wear features no other product has.
One such anti-wear feature is the ability to neutralized acids - the predominent engine, transmission, fuel, and cooling system killer, or trouble maker. Monthly additions to your fuel tank keeps acid damage away. Added during fluid changes keeps acid damage away in those areas.

A new problem-solving, cleaning advantage cleans and frees your vehicles many sticky piston rings, valves, gears. Usually, you drive the car - or use working equipment, until sludge and friction obstruck power - then overhaul the motor or transmission ends the problem. Not anymore!

The fuel and its distributing parts. Mega Power cleans and conditions your fuel for total burning - this reverses a sort of heavyness fuel developes making fuel burn incompletely. The product also cleans your injectors, intake, idle valve, combustion area, and emission system for improved breathing, in the process. Somthing fuel injector cleaning alone does not get to.

This type cleaning removes your wear increasing, power deterring residue negatives. With the result that former horsepower developing levels thought worn away are restored.

Also, Mega Power includes friction modifiers and condtioners. These provide car and equipment owners added problem-solving, and anti-wear advantages - explained below.

Those friction and conditioning features give your cars - new and older, even worn ones, a return to a like-new driving and performance feel. This is accomplished by changing wear roughen surfaces - a horsepower eating and robbing negative, to smooth - with an added slippery coating, to fill worn away spaces.

Now, horsepower absorbed is released and sent to again speed you faster down the road - zipping you along easier, again.

Both performance problem-solving and maximun horsepower deployment provides a rise in driving performance you can again enjoy - and adds years more driving dependibility.
This return of a cars or equipment performance
Problem-solving by Mega Power Additives occurs as they end your cars naturally declining horsepower levels - and end a number of performance caused problems - wear and miles created.
To get back maximun power levels, friction modifying and protective coatings adds several more advantages to the car and equipment owners.
For example...
More crankshalf spin is produced - and Mega Power's ability to release horsepower absorbed by friction, passing it to the wheels, provides higher performance and a like-new zip. Therefore the products name. Those internal improvements promotes added dependibility and longer life in both new and older, even worn, cars and equipment.
Mega Power's friction reducing ability helps new and rebuilt engines and transmission end their "break-in cycle" smoothly - slaming the breaks on the wearing away cycle. This adds more years of life to your vehicles and equipment than if friction and harmful residues continued their negative effect. More on Megapower additives....
In older vehicles, Mega Power in stronger formulas, provides a tune up feel as it cleans and lubes the oiling annd combustion areas too, and frees sticky piston rings, valves, gears, and such. Of course, maximun power-robbing friction ends. Ending your vehicles power deterring problems, their older engines, transmissions, steering, a/c systems, and radiators have is a great way to protect their long term dependibility, and provides work again with a like-new smoothness again.
Mega Power is also different in that it is not a harmful detergent additive, Not a solvent based additive, Not a harmful thick, sticky honey-like additive.
Mega Power ingredients go where oil or the fluid can't - to the cause of your problem - where the desired improvement is produced.
Megapower additives links below have specific problem solving tips for you.
Megapower additives. Same as Mega Power additives - the product and company's real name.
Questions mechanics ask about Megapower additives
"How does Mega Power use "friction" to end loss of power, and shifting problem?"
Answer: Megapower additives does so in several critical ways.
Megapower additives uses over a dozen detergent cleaners each with a unique penetrating action.
One Megapower additive ingredient is a cleaner that works in high temperature areas to clean and free dirty piston skirts and sticky piston rings. This is a popular piston blowby reducing benefit providing a power increasing advantage. This ability to clean and free very hot and sticky piston rings and gummed up valve stems, your dirty hot combustion area surfaces, and dirty fuel injectors - are all power restoring features - you can feel minutes after the piston blowby reducing Megapower additives are installed - our customers tell us. So will you, once you try Megapower additives


Other Megapower additives clean clogged oil passage ways and noisy valve lifters so oil can flow to them again - and stop their tapping.
Special slipperyMegapower additives co-polymers coat worn areas closing the worn spaces for a restore quietness and smoother idling and running.
Other Megapower additives: MC+ offer protective advantages - that end power-absorbing friction wear and drag - so power once taken out of use by friction and residues and absorbed, can now go to the wheels to zip you down the highway faster, on a bit less fuel.
Now, anyone
Mechanic or car owner will restore the power lost by those negative factors. Restore is the point.

I put emphasis on the word restore, as over the years, friction and sticky residues - all friction inducing factors, lower power equal to the equivalent of one of your motors cylinders.

The reduction of those negatives - fiction, sticky residues, wear, and heat absorb about 10% to 30% of your motors power. Mega Power gets it back for you! That is the marvel of Mega Power chemistry.
Is that a significant point? Yes! Very significant.
The negative factors: friction and sticky residues steal 10% of your power, waste hundreds of gallons of fuel, and wear out your motor and transmission twice as fast.
You already know that more friction means more heat created. Heat is bad for your oil. Megapower additives are good for your oil....
When temperatures rises 50 to 100 degrees in your motor and transmission from friction and residues your oils film strength weakens 50%. Heat lowers resistence to shearing - meaning, it becomes easy for the lube film to break. This allows more metal-to-metal contact and abrasion. Ever see what happens to engines when they overheated?

By Megapower additives surface smoothing advantages less friction occurs and hot spots in your engine and transmission dissappear. Some large buses and trucks have oil temperature gauges. Customer note this in the gauge readings. Your oil will run much cooler than normal - and we say so right on the label in big words.

No other product covers or offers such advantages. That is why Megapower additives is added to every part of my cars and equipment.
I'll show you how to do the same.
This will help you notice what to look for in a before, after check. Very educational and it keeps avoidable expense out of your budget.

Heat as a negative weakens oil in many ways. At the friction and sticking to high temperatures and you have sticky oil breakdown residues all over the surfaces of your motors pistons bearings, valves, lifters, and gears - losing up to maybe 15% power loss.

When those internal parts are cleaned and smoothed, full combustion is regained - and you instantly feel it.

Megapower additives does that! Mega Power friction reducing and anti-friction advantages now allow full power to be transferred to propel you down the road - instead of being absorbed overcoming friction.

That is how Mega Power gives you the most power. Restored, it will zip up hills like it did when new, and fuel economy is again the best possible.

As a motor and transmission operate, their worst enemies; friction, high temperatures, and extreme pressures ...

Change the clean, smooth, freely moving, and slow-wearing pistons, bearings, valves, and gears, into rough, dirty, sticky, fast-wearing parts.
Those negative conditions grow into the power-robbing, and performance declining problems you are experiencing. To do any good.... and end your cars problem
A product would have to reverse those conditions. That is what Mega Power does. To end your friction and wear problem, and restore conditions close to their original state - we found a way to use friction to advantage. Here is what happens when you add Mega Power to the engine and transmission. Megapower additives works on the molecular level. At that level, Mega Power chemistry, in the presence of friction, heat, and pressure, as moving parts touch, changes the brittleness of the two rough surfaces to soft. This conditioning action smooths. Now, when they touch good things happen, not wear and friction. The rougher the surface, the more friction, wear, and power absorbed. Smooth it, have less friction, less wear, and you end the cause of many problems.
Mega Power reverses these wear and tear conditions; restoring near-new power again. More on this in a moment... Now, compare Megapower additive ingredients to what others use to help your car - and you will see how Mega Power provides the complete solution.

How other additive companies chose to solve wear and performance problems

Nearly all additive companies use solvents or detergents to end

the problem - since gooey residue buildup is always present.

Dis-advantages of solvents and detergent additives

Solvent or detergent additives are low cost, extremely profitable products that parts stores, dealerships, and lube and oil changers promote.

However, as solvents clean, they destroy lubricity - the destroying of the oils lube film on all the parts.

Destroying lubricity is a wear-increasing disadvantage.

Detergents additives are safer cleaners, but do nothing to free, smooth, heal, or restore slow-wearing advantages.

Megapower additives fill the need

How Mega Power ends your vehicle wear and tear problems

Mega Power Additive Products clean, free, smooth, coat annd protect pistons, bearings, valves, and gears.

The product, in doing so becomes provides a great tune up to help and protect brand new, to worn-out cars, trucks, lawn-mowers to ships and large equipment, including RV's, and industrial machines.
Mega Power is a leader in the development of problem-solving, problem-preventing chemistry. MC+ friction modifier is one example.
They work on the molecular level. At that level, Mega Power uses friction, heat, and pressure to assist the chemistry's ability to reverse and end the cause of many problems.
Mega Power does so safely and completely by providing the exact cleaning, freeing, healing, smoothing, that ends the cause of the problem and power loss.
Some problems end in minutes, others take a day or so.
The total of all Mega Power Advantages working together is how Megapower additives increases power; power once absorbed, to free up and go through to the wheels - as more available power.
You may notice 20 to 40 more miles distance between fill ups.
Occasional touch-up applications, as recommended in your fix, can continue the benefits years past what any other method of care can provide.
End all of your cars and equipment avoidable wear problems, and restore their performance - like me, and tens of thousands are doing, with my Mega Power tips, and product suggestions - listed below. megapower-additives
Specific Megapower-additive Tips to protect your
Fuel system
Motor
Transmission
4X4, Stick shift, Differential gears
Wheel bearings More here
Need personal help? Call or email me for help with any of your vehicle problems, or to have a product usage question you want answers to.
Call, I'm here to help you. I'm George Christ, answering the megapower-additives help line desk at 1 512 665 3388 Or, email me at, megapower@grandecom.net
Use megapower-additives for like-new power and zip re-appears.
Use megapower-additives to see your problem disappear.
Meet the inventor of Megapower-additives, or Mega Power.
Mega Power Products are inventions of Bud Esterline, one of two of America's genius additive formulators.

Out of all the additives and oil companies in the world, Chrysler found his Mega Power the only product capable of stopping pre-mature engine failure, in brand new vehicles.

For this reason, it was added to brand new motors on the assembly line. A benefit to Chrysler and future owners of their vehicles.
The purpose and use of Mega Power Additives -
Has been for millions of motorist to purchase them for an inexpensive way to correct dozens of costly-to-repair, performance problems their vehicles and equipment experience, from when new, until the time they are sold or traded in.
How Megapower-additives, work compared to other popular additives
Most people have seen the dirty, messy condition of a motor taken apart for repair. Since the 1930's, solvent-based additives have been used to clean and free binding internal parts.

Solvents have their bad side, also. They destroy the oil film between moving parts. With today's tighter, extra power-producing designs, solvents create instant, added friction by destroying the oil film separating moving parts. PLEASE NOTE ABOUT THIS NEGATIVE...

More metal-to-metal abrasion always occurs when solvents are added to the motor. Solvent-labeled products made for engine and transmission care will cause pre-mature wear-out.

Down the road in time, one never suspects the solvent based additive speeds up their engine and transmission failure.

They is why solvent-based products labels warn you against increasing the motor speed - and revving-up the engine speed up. Now, you can see why.

With Mega Power products you don't have that problem - ever!
Bud Esterline invented a new cleaning formula chemistry - free of solvent, that depends upon moving parts and hi engine temperatures to liquefy that harmful, sticky goo.
Add the "our Mega Power Cleaner" to old oil or fluid, run 5 minutes, then change oil. Lube jockeys always say, your old oil comes our thicker - not watery, as is common.
"From my experience, Mega Power is the best engine, transmission, power steering conditioner, I ever tried," say many first-time-users. So will you!
The "extra-benefit factor," keeps oil cooler; by its ability to friction modify - as it cleans. Less friction drag produces less heat for oil to carry away, dissipate. To keep oil cooler where it needs the most strength.

A point easily noticed on vehicles with an oil temperature gauge - and easily noticed when mixed with axle gear fluid and wheel bearing grease 10%.

Usage at oil and fluid change intervals extends for years a vehicle and equipment dependability and usage, and fuel economy - better than any other method.
megapower-additives, an anti-wear...cleaner
Mega Power additives removes sludge, motor oil, transmission and power steering fluid, and cooling system anti freeze leaves behind, and responsible for doubling the rate of wear, even tho older, dirty oils and fluids are replaced with new.
As an anti-wear...friction reducer and friction modifier with its "MC+" ingredient
Mega Power stops fluid leaks. Go 20 to 40 more miles on fill-ups. Fixes over 20 problems. Free Menu of Care available.
Go to this web site for problem solving and tech help tips - or call us at 1- 512 665 3388
To Order for personal use or resell in your garage or business.
Call 1 512 665 3388
Email your interest to: george2007@grandecom.net

megapower-additives. My favorites