Engine Additive Brand Comparison Chart
 what does what review.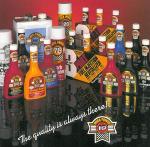 Solving the "which" additive problem.
Engine Additive Brand Comparison Chart: List of advantages
Our Review:
Helping you find the additive you are looking for?
To help you, there are 3 ways to look at additives.
1- Look for specific ingredient features.
                   Solvent, detergent, oil thickener,                                           friction eliminator, etc.
               2- Look for what problem they solve.
                   Remove sludge, quiet valve tapping,                                     stop oil loss, remove carbon.
               3- See if they offer a unique 2nd feature                                   to help solve your internal problem better.
Additive brand comparison features to look for...
Look at this comparison list of automotive additives. As you can see most brands fail to cover all the needs of your engine or transmission.
Additive Brand Comparison Chart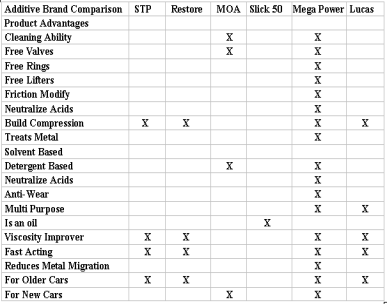 Additive Brands Comparison Chart on Features
As a mechanic or car owner-
I want an additive brand that solves wear and residue problems my car has - Not just residue ones, but wear and residue problems - if possible,
Why use a product that can only end just one or two of them, if more in this case, is better? 
By making a additive brand comparison of not just the ingredients, but, instead, of results promised, you can select what's the best value - and not end up buying what is of poor value. Don't you agree?

The Engine Additive Brand Comparison Chart tells you where the best-value for your car and money is
To find the product we favor click the buttons on the left about your problem - or call me... if you want advice. I'm a mechanic...george  512 665 3388

Did you know
Few of the popular brands listed are used by mechanics.
This is because they have little or no value to the mechanic's process of fixing a wear and tear problem. The popular ones don't work anyway - so that is why mechanics avoid them. So should you!
Who buys them - if not mechanics?
Answer One: Most additives sold, are sold in parts stores. Most brands are 50 year old brands. Sold by clerks who answer the question; "What's a good additive for this problem?"
The customer is directed to the additive shelf, and together a selection is made. Seldom does a person ever buy that product again - but thousands of products are bought in this way - and they keep restocking those products to fill this kind of demand.
While not listed, solvent based additives are popular. They are harmful to your motor and transmission as this info shows.

The first thing a good additive do is solve your wear main problems -
The above additive brand comparison chart and this video of the Mega Power Brand shows how so.


Why are poor quality brands still sold - if no good?</B>
<b>Most people don't know that quick lubes</b>, part stores, and big box discounters buy additives, as part of a package deal, along with oil.
This is the ploy big oil companies use on parts store, quick lubes, and discounters who wants a profitable price-break on oil they buy.
For parts store, quick lubes, and discounters to get the price break on their oil purchase, distributors sell additives at a very low, low price - as part of the deal.
So the part store or lube place makes a big, sweet profit off the sale of those additives, to receive a few dollars off on each case of oil they buy. Sounds good, sounds profitable - but not for the car owner. He is sold a worthless product.
The above chart list what mechanics tell me about the products they like. There is no scientific test value to it. It's just what I hear and see at the hundreds of shops I visit.
As you can see from the list Mega Power offers a lot of advantages compared to other popular brands.
This why you notice the performance improvement and problem solving benefits, as well.
Almost every day, I put Mega Power up against those brands listed in the chart to prove the value is in Mega Power - not those other brands.
That is how we invite people to experience what a real additive can do for their cars.
We want you to try Mega Power and see for yourself!
Click around this web site and select a treatment your car needs.

Mega Power works as advertised.  If not, we'll refund your money back to you! You will be glad you did - like so many tens-of-thousands of motorist have, and who now depend upon Mega Power.
Other brands seldom if ever offer a guaranty - and now you know why.
Watch the brand comparison demo, if you had not seen it, yet.
Additive Brands Comparison Chart. End