aboutus.org: auto-tune-up-and-repair-options.com. The place for vehicle repair tips, shortcuts, products, and long term maintenance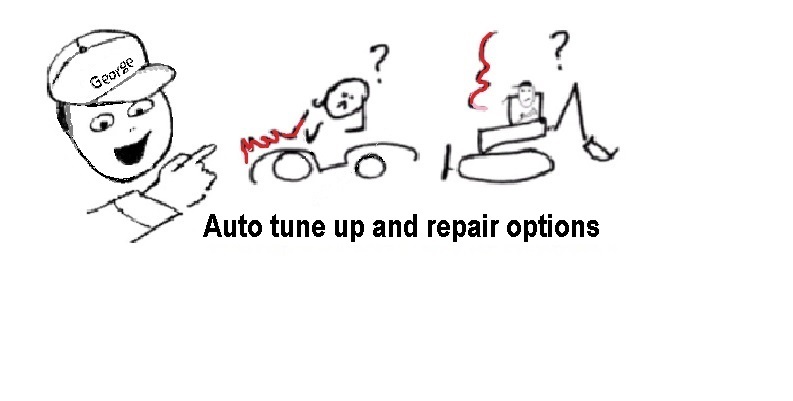 Alternative auto-tune-up-and-repair-options.com. The Do-it-yourself alternative that is the actual repair, or the internal part of your repair that fixes your vehicle in the best and cheapest way.
aboutus.org. DIY Alternative Auto Tune Up and Repair Options.
Description:[Altered for easier reading]
This site provides you this help:
As the internet's expert and teacher on using automotive additives to solve and prevent vehicle wear and performance problems - I'm a mechanic and train mechanic's, I'll help you solve your car and heavy equipment problem in a new and better way. How so?
DIY Alternative Auto Tune Up and Repair Options.
Provides YOU an ALTERNATIVE TO REPAIR, OR REPAIR ASSIST Tips and Products I discovered that - will end your automotive running, performance problem.
Including those that avoid actual repair. That's the option part for  your repair fix, using our better method - instead of actual repair. Please note:



Auto Tune Up and Repair Options are specific products and treatments - street proven and in use by many mechanics - I taught to use, explained, and for purchasing by you to do a professional fix, yourself. They contain ingredients that reverse the trouble your car or equipment has!
Is that the help you want?

Automotive additives for:
Fuel, Injector Cleaning, Motor Oil, Transmission, Radiator, Power Steering, Air conditioner, Tune up.

Plus, Oil, Air, and Fuel Filters, Engine, Transmission, Power Steering, and

Brake Flush and fluid exchange machines, related tools. Marketing and Tech Training.
Excerpted from the website description:
Do you think an additive will fix your vehicle problem?
You can narrow down the right choice in just a couple of clicks on the buttons at the left side.

In those clicks, you'll get the best additive treatment for your particular problem.
Popular problems.
For Engines. Stop oil and anti-freeze leaks, end excessive fuel and oil consumption, stop exhaust smoke and fumes, stop valve and lifter tapping.

Correct loss of power by one of several ways – cleaning, ending friction, drag, rebuild of worm surfaces.

Special cleaning tune up aids, including: combustion area cleaning, cleaning dirty fuel injectors, condition aged fuel an oil, and clean emission systems to lower harmful emissions. Reduce wear and hot spots.

For Transmissions and gears. Stop gear growl, end rough shifting, and end converter lockup problem, restore smooth shift timing. Stop slipping, leaks.

For Radiators. Cool hot-running radiator and the engine. Stop leaks in block, gaskets, and heater cooling core. Restores proper operating performance.

For Power Steering Service, stop leak, and correction of binding.

For Gas and Diesel Fuel Conditioning, moisture removal, cleaning.
For More Info, ask product questions, and ordering, call George Christ 1 512 665 3388
The Brand Features
We feature the Mega Power Product Brand for:
Their unique cleaning, freeing, surface smoothing, surface coating, protecting, and fluid conditioning formulas.

Package in problem-preventing, and problem-solving products, with key feature in the name and benefit advantages areas.
Key attractions include:
their fast-acting, performance-improving characteristics.

The brand offers a superior method of care and provides several means of lowering cost-per-mile operation.

This includes, repair avoidance, self-paying fuel and oil benefits, pre-mature vehicle replacement avoidance.

A notable feature is a restoring and maintaining of the like-new zip, performance, and dependability; beyond what any other method of care provides.
Unique also
Are the brands anti-wear ingredients, which help new and older, even worn vehicle and equipment owners gain or recover years more, like-new vehicle, zip, performance, and dependability.
For cars, trucks, heavy equipment, industrial, marine, and racing usage.

Contact Information.
George Christ megapower@grandecom.net Cell, 1 512 665 3388

Learn more about the products inventor


More about me, Here...

Purchasing Info. We are Factory Direct Distributors.
George Christ. Mega Power Product Distributor
210 Durango Street. San Marcos, Texas 78666
Order with your Visa, M/C, PayPal. Shipped direct to you - with instructions. For info and to order, call, George Christ at 1-512 665 3388 anytime.
aboutus.org description for this site - about vehicle care and maintenance. End aboutus.org page info.
Link to aboutus.org

This site's home page index...