Bud Esterline, Vehicle Additive Inventor. His Mega Power Company. Products. Applications. Contact Info.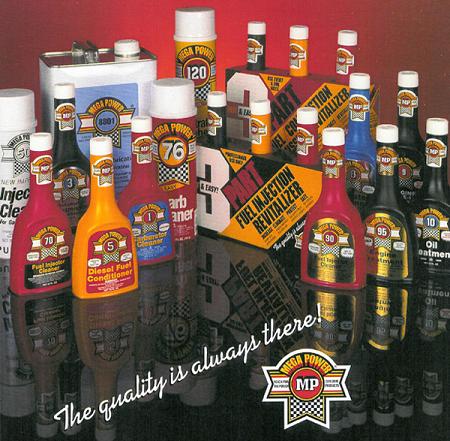 Bud Esterline.
Vehicle Wear and Tear Problem-Solving Additive Inventor.
Picture shows a few of his inventions. megapower.com ...company web site.
At the company web site, see Mega Power's Anti-wear MC+ ingredient. One of the many features in his ingredients helping motorist to solve performance problems. A feature helping new and older vehicles owners solve internal problems.  
How we promote Mega Power.
This web site; auto-tune-up-and-repair options.com is an educational site to explain and train mechanics and lube, tune, auto repair, fleet, business owners - and individuals about the use of specific Mega Power Products as a wear problems solver.
Problems solved with Mega Power. 
Car owners seeking tune up and repair help can quickly find in non-technical terms specific product remedies for their car and equipment needs.
A problem solver for every component.
Bud Esterline's brand; Mega Power, fills the need to end or prevent, wear and performance problems in the motor, transmission, drive axle, power steering, engine cooling, and air conditioner systems - not possible before. Cars RV's, equipment, industrial.
Distribution
Mega Power provides their products to distributors, who provide Mega Power to the tune up, lube, and repair business owner. Distributors pass on to these the training, marketing, and inventory they need.
As a repair aid
Mechanics. This arrangement puts Mega Power Products in the hand of the tech and mechanic. Mechanics and techs will use Mega Power's new problem-solving expertise and products to help solve their customer-car problems.
Mega Power provides, anti-wear maintenance products, tune up products, and repair problems solving products. They are packaged for new and older, worn vehicles such as cars, trucks, RVs, marine, and industrial machines and equipment.
HOW can you, your family vehicles, and your budget benefit?
To order, become a re-seller, Both.
Bud Esterline, Mega Power Automotive Additives
Here's the run-down. Call me... george, at 512 665 3388,
or Send me an email of your vehicle or equipment problem. I'll send the right products and simple directions to follow. We ship direct to you. My email: megapower@grandecom.net
Business Opportunity Info for your local area. Email interest to megapower@grandecom.net Or Phone. USA 1-512 665-3388 Bud Esterline. Home page problem solving index