Engine Damage Help
Hi george. Re engine damage. 07/19/2017

Thanks for the information. I apologize for the false alarm. I poured the items correctly, and the car started and drove fine. I made a couple trips, shutting down the car both times and restarting it fine.
On the third trip, the car totally died and wouldn't even turn. These trips were all within an hour of one another following the fluids, so I thought the car stopping was attributed to the fluids. By coincidence, the starter died at the same time.
The mechanic verified it was nothing else.
Again, my apologies. I'm sure your product is fine, and I look forward to steps 4 to 6 later this week.
Gaurang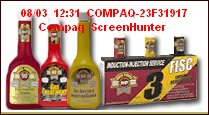 On Mon, Jul 10, 2017 at 5:27 PM, George Christ <george2007@grandecom.net> wrote:

Hi Gaurang Kadakia <gxxxxxx@gmail.com>:

Sorry to hear about your car problem. In answer to your question,
I assumed you added item 1 to the gas tank. Item 2 to the motor oil,
and there was motor oil in the motor also. Items 3 is for combustion
cleaning. The 3 items work together to free and clean. They work very
well and tens of thousands of car owners with engine damage have found them to do as advertised.
  
I have never heard but 2 cases of such a problem. Engine damage had
already occurred, and failure could not be stopped. Now, if you added
item 3 into the engine suction as shown to do, there are rare cases
of so much carbon working lose it would not let the motor start -
however, overnight the engine damage problem cleared up and the car ran great.

Of course, no oil in the motor would cause your motors problem,
as well as running the motor for long periods of time sludged up.



Engine damage by your product. The mechanic verified it was nothing but a starter part, not the engine treatment.

Again, my apologies. I'm sure your product is fine, and I look forward to steps 4 to 6 later this week.
As a mechanic and tech expert, those are what I know.

If the engine pan is removed, a look at the bearings will tell if
a plugged up oil delivery artery caused the problem. Or a failed
oil pump. If so, get a good used engine.

Overheating failure. This is very damaging. If so,  adding items
5 - a super lube with a engine damage friction eliminator, into the air suction intake in 1/2 oz amounts well cranking the engine with the spark plugs removed may recover the running condition.

Again, sorry to hear of this problem, hope this info helps,
and you can be assured the products did not cause the problem -
...george

Hi, 07/07/2017

Has anyone ever reported the engine seizing up after completing steps 1-3? That's what happened in my case. It's in the shop. I hope they can unclog it.

Gaurang
Engine damage worn motor treatment.