Simple to install engine additives to stop oil burning, gives years more strong dependable motor power, too!
Engine additives to stop oil burning.
Even people who don't know a gas cap from radiator cap, but who can add oil and gas to their car can install the Mega Power Motor Treatment to stop the problem, themselves!
Here's your car motor problem. You check the motor oil level again, and it shows you're one or two quarts low.
Maybe it smokes out the exhaust pipe a little - a sign of your problem, or not! That may be because....

Your motors catalytic converter,  part of your mufflers smog reducing system, may work efficiently such, it converts burnt oil so all you may notice is a pungent smell, sometimes like rotten eggs.
In any case, this drawing of inside your motor shows....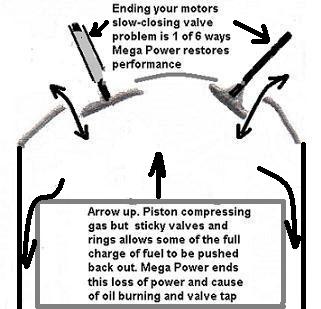 Picture shows the inside of your motor where the 3 places for your motor oil to escape and burn are.
One area is :
Oil, along side the 2 up side down "T"s - representing  your motor's valves, is one place.  You motor has 2 or 3 valves per cylinder.                                                                                                            Oil is splash over and around your motor's valves to both lube and cool them - Valves work right in the middle of your pistons combustion area. Combustion is 10 times hotter than any oil can withstand!                                                                                                   Wear, in the slot the valves slide up and down in will enlarge, allowing your motor oil to travel down that space, into the combustion area - and burn away.

The other way your motor oil burns away is by the failure of your dirty pistons rings to spread outward to block the suction of your pistons lubricating oil from being sucked up into the combustion area, as your pistons are going downward, sucking in fuel for combustion.  
More: Engine additives to stop oil burning.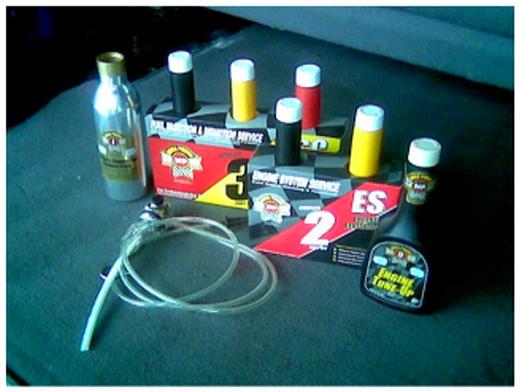 Engine additives to stop oil burning: Mega Power's Worn Motor Treatment contains 6 items that work together to stop the 3 areas of motor oil burning.
Traditional way to end oil burning in your motor versus the Mega Power way

While a $4000+ engine replacement or $2500 engine overhaul is the common way to solve your oil burning, Mega Power gives you a several year extension before that becomes necessary - for $90.
This also requires a $50 touch up chemical replacement once or twice a year for most motors- you can order online just before an oil change.
Is that worth it? Thousands of car and heavy equipment owners think so - and so do I !Try Mega Power and see for your self!

To order Mega Power, or ask a question about it for your car or heavy equipment motor - comes in gallons for large motors. Call me at  512 665 3388 ...george
Engine additives to stop oil burning for trucks and equipment