diy engine tuneup additives are better than ever to keep your engines running great. For ending its running or performance problem yourself.
George Christ, auto mechanic and DIY Engine Tune Up Expert,
reveals his  racy performance tune up.
 This service is  also useful to keep the wear our curve flat on all your engines.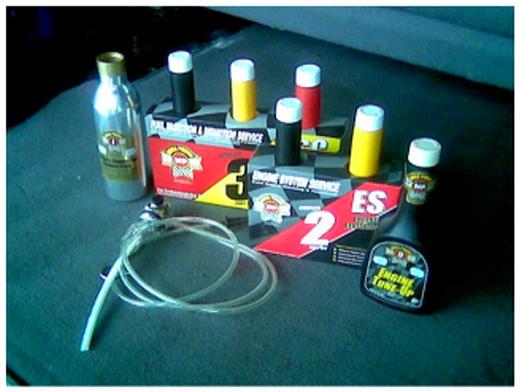 =    'This article shows the 6  diy engine tune up additives to restore older engine lagging power. 

Fuel System Cleaner. $49. Red item.

Fuel Injector 

Cleaner. $69.  Yellow item.
Intake air, throttle plate, idle valve Cleaner. $89.  Yellow item.
Combustion Pistons, Valves, Smog Cleaner.  $99.  Black item.
Sludge Remover. Lifter, Oil System Cleaner. $69.  Black item.
Friction Remover. Worn Space Filler.            $99   Black item

Specials

on all 6 together: $149. 

 Directions below.
Their purpose to zero in on removing crud, removing friction, and removing gummy residues:
wherever air fuel exhaust and oiling passageways are. 
and also on every part just replacing parts can't. 
    The idea is to:
Recover

a lost responsiveness the engine had when new. 

To end a performance - upsetting problem.
Perform Yearly service.
Gain a few more years good service. 
This METHOD removes absorbing engine power and the increasing wear-out factors.
Its costlier to replace dirty trouble causing parts. So this cleans them up and conditions them to a new like state. 
If that is not your interest, check some of the other articles.
additives found to do it yourself Every day automobiles are supposively tuned up - but just injectors are rarely cleaned properly, and the few expensive parts replace leave untouched the year of residues, friction, and sluggish movements that make it seem older and worn.
. The vehicle runs as if at the mileage it has - what a shame! Especially when: 
 A better set of additives can end every motor's hidden internal horsepower absorbing. 

 And they will remove its performance lowering troublemakers. 

And boost it horsepower output by 10% to 15% for the same amount of money. 

An instantly restore in them a zippy, race care performance - then keep em that way as long as the customer wants. 

That is the promise with the use of the  Mega Power Tune Up Treatment.  Its secret in in its 6 item features called the tune up kit, no other product has.
    While most mechanics are not even acquainted with its racy, horsepower upping  features- its internal tuning secret amazes men and women vehicle owners who installed the product - after using it to one of over 21 internal engine problems its ends. 
    Select this Mega Power Engine Treatment to end your engine problem and enjoy its zippy new like performance. 
DIY-Engine-Tune-up Treatment Ordering Info.
Order here, one or more sets of 6 tune up treatments. 
Mega Power's DIY Engine Tune Up Treatments as shown.  Comes with simple install directions. Then drive for the tune up result. Phone help if needed.  Guarantee included. Price is $65 plus $16 s&h= $81.00 total. Click cart button to order.
What you should know About Our DIY-Engine-Tune-Up Install Steps

What you should know
Today's cars are touchy! They do the tune up mechanics use to do - with the exception of changing tune up parts gone bad.  Mostly, those tune parts become residue coated, and and they can't do their job to refine the cars computer commands.
Or, sensors send the wrong data - due to dirty conditions in 3 of your motors sub-systems. When that happens, those dirty conditions begin to cause what us mechanics call "performance problems."
Sure, the engine code may actually spot a defective sensor, however in 7 out of 10 times, our method of diy engine tune up cleans the sensors and emission system - the cause of power decline, rough idle, stalling, lousy fuel economy, black exhaust and such - as Troy reported, and had his  Jaquare getting and extra 52 miles per gallon fuel economy, after following our diy engine tune up addiitve treatment.

Some very smart people have tested different traditional tune up cleaner additives to see how they compare with the new additives available for DIY Tune ups.
As this chart shows, popular additives lack alot of advantages compared toi the brand Mega Power, we chose as "The Best" diy engine tune up additives.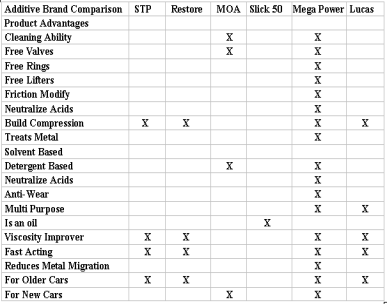 The reason for Mega Power's ability to provide a DiY engine tune up is listed in the chart, with 6 new anti-wear, anti-friction, tune up additives  - installed in two easy steps, that clean every internal dirty worn part with conditioners - ending the motor's  upsetting operating problem.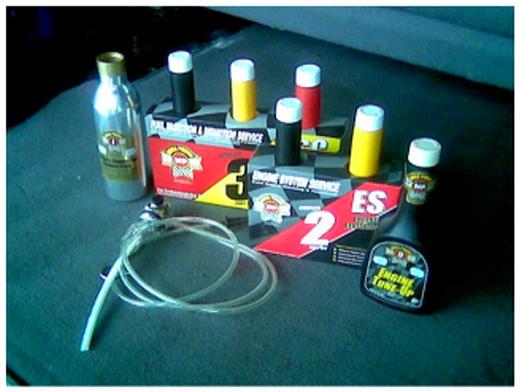 As you know, the cost of an engine tune up can run to $1000 easily, due to the time involved to isolate your particular problem.
Our method is simple. Clean every dirty part - tune up related or not! We found it takes the above 6 Mega Power Diy Tune Up Treatment Products to clean 6 sub-systems of your motor. In among them are the engine tune up sensors that provide the computer tune up data.
We found, by using the strongest cleaners - those having anti wear attributes - 100% of the cleaners use by most mechanics, along with those sold in parts stores, have a negative factor. They do not have anti-wear advantages, as does Mega Power with its MC+ ingredients.
Anti-wear describes Mega Power's DIY Engine Tune Up Treatments ability to clean and free every dirty piston, bearing, valve, sensor, and such. Then heal their wear roughen, power robbing surfaces. This again allows each Mega Powered cleaned part and each sensor to work good as almost new - restoring your motors performance, as it ends the problems those dirty conditions caused.

Our method is simple because we found they all are dirty, and one or more dirty parts is causing your motor tune up performance problem.

While you can read of the various motor tune up problems listed above - on my other diy auto tune up and repair options.com web site, which explain the Mega Power diy engine tune up additive method to end those problems, you can do the same with your tune up problem - as follows:
Directions to install Mega Power's DIY Engine Tune Up Treatment
When you receive your Mega Power DIY Tune Up Treatment, you will notice I put the numbers 1-2-3-4-5-6 on their product caps.
Step One: Simply add items 1-2-and 3 of your Mega Power's DIY Engine Tune Up Treatments go into the gas, oil, and air intake, to clean your dirty upper motor tune up systems of your motor. You drive for a week to let Mega Power do its job. Performance will bounce back during the first day of driving - which does the actual tune up as you drive. Nothing to take apart!
Step Two happens a week later during an oil change. You add item I marked #4 on the cap to your motor oil. After 10 minutes, of running your motor, do and oil and filter change. On top of the new oil install items #5 and #6. These will add more friction reducing, and also adds a slippery anti-wear protection  - that smooths the motor to a purr! Last for years with just a minor touch up of Mega Power I show you to use.
If you read this far, I'm pretty sure Mega Power's DIY Engine Tune Up Additive Treatment is what your motor needs! Order Mega Power now! It is delivered with more detailed directions - all easy to follow, my phone help if needed, and delivered by FedEx in about 3 days, to your door. As you ncan see, Mega Power is complete, nothing stronger - nothing sold like it! Mega Power is faster and hundreds of dollars cheaper than a dealer $500 plus tune up! Get on with life and a great running car with Mega Power, for years to come! Guaranteed or your moneeeey back!

DIY-Engine-Tune-up Treatment Ordering Info
Order here, one or more sets of 6 tune up treatments. 
Mega Power's DIY Engine Tune Up Treatments as shown.  Comes with simple install steps. Then drive for the tune up result. Phone help if needed guarantee included. Price is $65 plus $16 s&h= $81.00 total. Click cart button to order...
Buy two sets for both cars and save $20 and save you and both cars a lot of avoidable trouble. 12 items. Same satisfaction guarantee! Just 125 plus $16s&h= $141.00 Save $20.

The patented aluminum bottle is a mechanic's tool they or anyone can buy if they install Mega Power every day - as a tune up assit tool to feed item #3 into the PCV valve - for instant results. Just $125.
Mega Power's DIY Engine Tune Up Treatment
Mega Power's DIY Engine Tune Up Treatment even works on worn out, high milage cars you be told needs a motor overhaul - so says Mike.