Why do valves tap? Answer: Sludge.
Why do valves tap?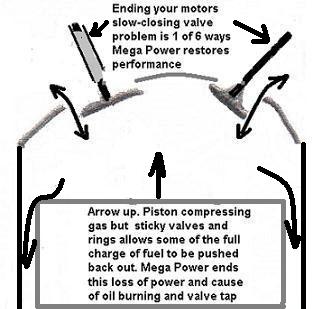 Engine valves tap because sludge causes two problems. Picture shows problem area and a lo-cost solution from Mega Power.
Why do engine valves tap? Contact Info: On a smart phone, to ask a question, order items listed, call me ...george 512 665 3388
What you should know.
Valves that tap are "T" shaped engine parts that let fuel in and exhaust out of your motor. See picture above.
With time, they become so coated with sticky residues that cause your problem - and 3 other problems, a product we recommend from Mega Power ends. 
Dirty Valves cause rough idle - by being so dirty they stay open when they should be closed. Mega Power ends rough idle.   Do you have that problem showing up, yet?  If not, its next to happen. See story below for details. 
They cause of mysterious engine stalling by confusing the cars compouter, which shuts down the motor. Mega Power ends engine stalling. The cost for a mechanic to get inside your engine to end the noise, rough idle and stalling due to residue caused problems runs over $2000.
Residues cause friction and loss of power Mega Power restores - with if friction modifying conditioners MC+. This cause the cleaners to work and also smooth wear roughen piston bearing valve and gear surfaces. An anti-wear factor.
This review covers the cause and our best remedy to why do valves tap?
Noisy engine tapping noise - Mega Power ends tapping for you. Order Mega Power below.Engine tap, roughness and stalling happens after 100,000 miles of driving and is caused when accumalation of sludge and residue on your motor valves - slows their timing speed speed - which causes the problem.
As you can see  by 2 way arrows, a portion of the fuel just sucked in by the piston is forced back out - and this lowers the needed horse-power development - making you think your motor is worn out - when its not!

Why do valves tap, and what's the best way to end this problem?
When your valve are still closing  - when they should already be closed, a space  appears that should not be there. That space causes the tap tap tap noise. 
As you can see  by 2 way arrows, a portion of the fuel just sucked in by the piston is forced back out - and this lowers the needed horse-power. 
By cleaning, freeing, and friction modifying, Mega Power ends your engine valve noise problems. Otherwise, its something of a $2000 engine repair and $400 worth of new valves - the usual fix.
The new way to answer the question: Why do valves tap and the best way to end the noise?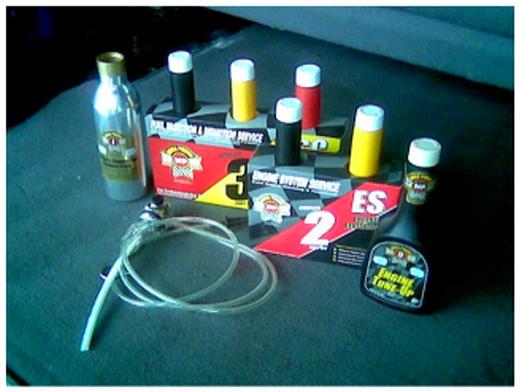 Mega Power has found the 6 items needed to end valve tap. Order now!
Order this product and let it clean up your motor, and that will end your anxiety because it will end your noisy engine valve problem. We like  the Mega Power way because the motor feels like a new car motor! Your car needs this products type of help!
How to install Mega Power like a Pro
Directions: Just add 3 products that come in your order, to your gas and oil. Drive for a week to let them clean and free and quiet your engine. Them add the other 3 during and oil change. This method is simple to install but does a complex cleaning that quiets your noisy engine valves. 
Ordering Info and guarantee

One Mega Power Valve Treatment Includes 6 items shown. Easy-to-follow directions. Phone help if wanted. Satisfaction Guarantee with no time limit! Shipped to your door by FedEx in 3 days.
Just $75, plus $15 s&h= $90 total. Price increase subject to change to $99 soon. Mega Power is a 6 item treatment easy to install.
Order 2 Treatments protect both your cars, save $40. 12 items. $135+ $15s&h=$150 total. Not $190. Save $40. Subject to an advertised price increase, soon. Order Now! 

Order a Mega Power Treatment for your cars transmission $75, and engine valves. $90.  9 items. Easy to install. Directions and guarantee. Just $135. save $30