After warranty expiration service that will save you car, cash, and butt!
After warranty expiration, vehicle servicing tips.
5 tips that avoid costly repairs, help cars run trouble-free after warranty period ends.
Oh No! My car warranty expired! Now, what will happen if it breaks down?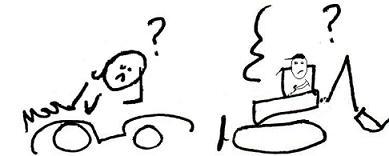 If this is a subject on your mind,
Here are the 5 most common services that will help add years more dependable service to any car, pickup, SUV, or van - after the warranty period runs out.

They are collected from years of providing car care, and seeing the results of what happens when service is neglected, after the warranty expiration.
What the heck is a timing belt? My advice.
Replace your motors timing belt about when the car has reach 75,000 miles. Cost: under $250.

A motors timing belt turns the motors cam shaft, which make the valves open and close, to let fuel in and exhaust out. After so many millions of flexing actions, the belts internal steel strands weaken.

If the belt breaks, on some motors, the valves will stay open - instead of closing, causing the piston to smack into the valve with a sledge hammer hit - a damage that can cost over $2000 to repair.

Not all motors need this service, but its wise on your part to check your car manual, or have a mechanic look to see if your motor has timing belt, or not. And of course, replace it every 4-5 years or at about 75,000 miles. If pass this mileage - its a gambling thing!
Change your other four fluids if your car is near 100,000 miles. My advice.
They are radiator, power steering, transmission, and brake fluids. Cost: about $75 for each service.

Why? Because several unseen conditions; electrolysis, acid attack, and fluid breakdown, are all reaching a dangerous point, and present in the fluids - they are the common causes of:
Your cars radiator lack of service.
A coolant leak causes a funny smell, when the a/c or heater is on - and that scum, on the inside of your windows that won't clean off. That is a heater core leak problem. [Replacement cost: up to $550].

New radiator service products strong enough to end such leak - with out adding fibers or particles, also end overheating, and even intake-manifold coolant leak problems. A $1500 repair.

Learn more about proper radiator service and care.
Power steering fluid needs a good clean-out and protection, too. Cost: $95.
Power steering fluid loses its lubricity and turns bad on the system.

Its the cause of seal leaks, the constant drone emanating from the pump, and the cause of your steering gear or rack developing a rough, severe wear spot you feel, just off center-turning of the steering wheel, left or right.

Acids, friction, and surface roughness can be removed with a complete flush, clean and anti-wear product. An explanation of the Mega Power, Power Steering Service is detailed here: How to service your power steering, stop leak, squeal.
"$2,599 to overhaul my transmission? Are you crazy? No sir! That's what it cost!"
If there is nothing wrong with your transmission - change the fluid - now, if four plus years old, regardless of the warranty expiration date!

And when they change your fluid, demand they pour new fluid out of a bottle - into your transmission, because most shops buy recycled transmission fluid - a profit building tactic, that, down the road will take many years of life off your transmission.

If your transmission has developed a rough shift, slow shift, leak, or clunk sound - around 40mph, it needs some real medicine - a fluid change just won't do now, as its not strong enough!

To end the hidden causes of those problems, new chemistry - sold as a service treatment, can now do the job. This web site has the scoop on medicine for an ailing transmission service product that may help you avoid an expensive repair, maybe, for years.
"The brake pedal is almost touching the floor! We could have killed that person in the cross walk!"
About brakes: Have them check whenever they act up; before or after the warranty expiration period. A service they make you pay for.

The brake pedal never goes down that far unless you brake system has a leak - or the automatic adjusters are dirty and stuck. Remedy? It time for a complete brake inspection.

The tech - better yet, your local mechanic - who will do the inspection and brake correction service - just as good as a franchise shop will do for you, for less than half what they charge.

You may just need front wheel brakes or all four wheel brake shoes or pads. They systems brake cylinders are also rebuilt and flushed out at this time. If all seems OK, and just a little cleaning is all that's needed - ask them to flush the system out with new brake fluid. That should do it for one more year - then do a new brake job!
Warranty Expiration Conclusion
So, those are my reasons why, at about when your cars are 4 to 5 years old, all your vehicle fluids need to be replaced - and cleaned and protected with good additives. Then, every three years - because of a residual of negatives, that causes fluid breakdown almost twice as fast.

Servicing cost doing your after warranty expiration servicing is about $500, and is good life assurance - that may help you avoid many times that amount, is this mechanic's opinion about warranty expiration, and car care

.