Mega Power Brand Head Gasket Stop Leak. A quick better way to do so to save your engine. $95 Call to order. 512 665 3388
 Like that idea? Sure!

    Replacing a head gasket on your engine cost over $3000.
    Using a parts store stop leak is risky. 
The problem is that common head gasket stop leaks contain strings, fibers, powders, gravely mixtures, eggs, and pepper.  AND, those fibrous material plug up the radiator cooling tube inlets.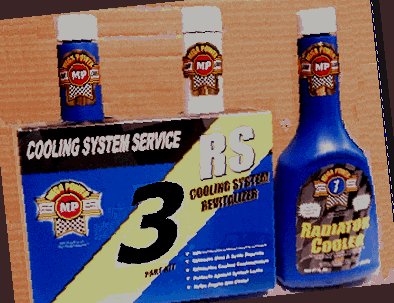 Mega Power's Stop Head Gasket Leak is watery clear. Yet, stops any head gasket leak is as good as any stop leak. However, its clear, no particle nature will not cause a second problem fibrous stop leak brands can cause - of sealing over  radiator cooling tube inlets - preventing cooking hot coolant from using the tubes to dissipate the engine's heat. The quickest event known to kill a good engine. 
    Mega Power avoids that secondary overheating problem by removing scum in the tubing, which act like a fur coat blocking heat flow. And by removing lose oxygen in the coolant. These 2 extra helpful features allows full coolant flow, and much more coolant to touch the surfaces - transferring more heat outward. These factors are the only know ways to stop head gasket leaks, and lower coolant and engine heat sink high temps. 
    If you were told you have a blown head gasket.  "Blown" means, an opening in the main engine gasket has occurred.  It leakage can:
leak coolant into the oil
upsets the normal engine operation
force combustion to push coolant out, overheating the engine
can ruin the engine. 
Mega Power Stop Head Gasket Stop Leak ends those blown head gasket troubles
So, urgent help is needed. And Mega Power is it!
Why 

Fibrous sealing stop leaks have a problem with clogging the radiator. Mega Power's new air coagulation stop leak won't clog. Can't clog - but stops the most serious leak problem. 

Fibers stop leaks - often clog up the radiator. They are too thick and stringy. Often they can't reach the hole in the head-gasket. 


Mega Power is all liquid. And is air activated.  Air activated  features make it the ideal head gasket or manifold stop leak.
This means Mega Power will not clog up your narrow radiator cooling tubes, nor block circulation as do fiber stop leaks - avoiding a new problem. 
As such Mega Power works like blood that keeps flowing until when exposed to air, and coagulates the coolant to stop gasket leaks. No fibers in it!
To stop a head gasket leak. Follow these Mega Power Directions:
Add the MP Pre-clean and Acid Neutralizer to the coolant and run motor 10 minutes. You can drain and replace the coolant if old or dirty. In the old coolant - the troublemakers are drain out.
With new coolant, add the 2 stop leak liquid items marked R2 and R3. Sealing of the head gasket or hole now begins as you drive!  
Works on sealing any hole in the system and hold 30 lbs pressure - twice that of the system. The same product is use to seal new engine gaskets, and  to prevent hole development and overheating problems. 
That is the best way to stop a blown head gasket leak.
To order click the cart button. 
Ordering the MP Stop Head Gasket Leak Details:

The 3 Part Mega Power Radiator Head Gasket Seal Service Kit #RS3 contains the MP Pre-clean and Acid Neutralizer R1. Stop Leaks R2 and R3.  Just $95 + $15 s&h= total $110.  Click cart button to see today's bonus.