Radiator Loses Coolant - The 100%  All Causes Stop Leak. Stops Hidden Seepage. Head Gasket Seepage. Heater Leak. Running Hot. Quick and Easy.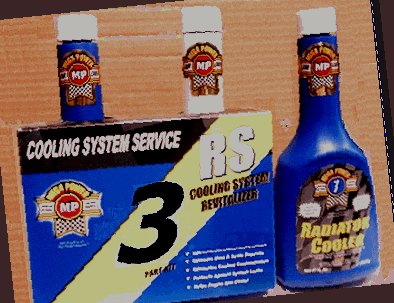 Mega Power Brand Cooling System Treatment Is the first product to end all internal causes of coolant disappearance.
Radiator Loses Coolant - Try Mega Power Brand All Causes Stop Leak. Stops Hidden Seepage. Its rated for Head Gasket Seepage. Ending Heater Leak. End Running Hot Causes. A Quick and Easy Guaranteed Solution.
Contact Info: 24/7 512 665 3388
Auto tune up repair options treatment for radiator loses coolant problems.
     An easy to do service ends all 3 radiator problems. It also exceed new car warranty radiator servicing required every 4 years. Here's the service needed:
Directions:
     This product comes with 3 items and uses a 2 step install for to end radiator loses coolant troubles. 
Step One removes acidic scum, the major causes of all cooling system problems. Add item #MPR1 to the coolant and drive the car for 10 minutes. Then, remove dirty old coolant, and scum, and rust will come out. Opens cooling tubes for idea heat transfer again, and removes scum on engine surfaces that hold engine heat in - Both ways to end causes of coolant lost. 
Step Two : After removing old coolant, add items #MPR2 an #MPR3 to the radiator and then fill the system with good anti-freeze. #MPR2 an #MPR3 stops head gasket, manifold gasket leaks. Heater and radiator core leaks. Ending those radiator loses coolant causes. And avoids their $1000 to $3000 replacement expense.. #MPR2 an #MPR3 also keep acids away, and draws  micro pockets to air out to vent that stops heat transfer and bubbling to dump out coolant. Temperature go to normal and coolant loss ends with these two steps. Loss subsides with the system negatives removed. 
About the radiator losses coolant ingredients 

    The flush item. Mega Power Flush Treatment cleans out crud film keeping heat temps dangerously higher making your radiator and engine run hotter.  Included in this show service product."Cool."  Cool adds an ingredient to remove oxygen in the anti-freeze. With "Cool" added to the new coolant anti-freeze you transfer heat from the engine out faster. Included in this show service product.
Stop leak. Ours works like blood. Flows until it passes into a leak - then coagulates stop every kind of leak. Stops head gasket and manifold leaks so costly to repair.  All 3 included in this stop  radiator loses coolant service product.   A great engine temp lowering, coolant loss ending service.  For tow vehicles to keep engine running cool -avoid radiator loses coolant overheating problems. Order Here at cart button.