Radiator cooling system fix. Do It Yourself Fix Treatment. Tips Directions . Online ordering. Satisfaction warranty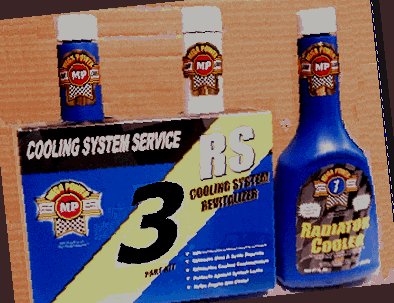 Radiator Cooling System Problem Solver from auto-tune-up-and-repair-options.com
Radiator cooling system fix. Contact info: On a smart phone to order. Ask a question. Call me ...george at 512 665 3388 day or evening. Shipped world wide! 
Radiator Auto Tune Up Repair Options.
Ends leaks. Even Head Gasket Leaks. Overheating
      Mega Power's Radiator Treatment is a true service product, and is  more advantages than single cleaners, and stop leaks.
      Its non-caustic cleaner removes trouble-causing crude safely, provides non-clogging stop leak, and includes powerful heat-removing features the service product to also end overheating troubles. All in one simple service. Yes, its stops heater core, head gasket, manifold leaks! Yet can never clog coolant flow like parts store cheap product often do.
      These 3 Mega Power items  Protects the entire system. Also installed as a fluid replacement aid.  Exceeds new car warranty service requirements.     
     Please Note: Since your transmission fluid is cooled in-the-radiator, overheat problems overheats your transmission fluid, cutting years of life off transmissions - and this product puts an end to that prominent cause of transmission troubles.
     Exceeds car truck makers service requirement for warranty service. on this radiator product, tips, ordering -  More.... 
Other DIY Tune Up and Repair Options: Fix, Avoid-Fix Solutions Below.