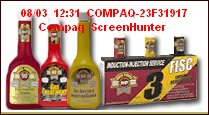 Motorcycle valve tapping contact info: On a smart phone, to ask a question, order items listed here, call me, biker george at 512 665 3388.
Tapping Remedies:
Nothing is more disconcerting than to hear your bike motor valves produce an unusual and annoying tap tap tap.
The tap occurs  because residues  binding the valve stem or carbon on the valve head are stopping the eye-blinking closing speed the valve should have on closing. 
Still closing, during the next valve open cycle causes the cam rotation to close the space, making the tap noise.

Repair as the fix for

 sticky valves -  

can run over $1500.

Our Motorcycle valve tapping product shown will correct this problem.

Backfire:

If a valve that lets fuel into the combustion area is sticking - and not closing fully - each time combustion occurs - the flame front will burn all the fuel behind the valve waiting its turn for combustion.
Repair as the fix can run over $1500.