Mission Statement: auto-tune-up-and-repair-options.com
   People come to us for help when they are having car trouble especially, as their vehicles age. More so, seeing their present car care methods isn't good enough to prevent their present car problems. 
   They like and follow our care and repair options. A sure solution to get their car and life back to normal. 
   Do you want such help? What's needed sent to your door in 3 days. Order online or by phone.

   Get that help from our menu links or this page.  Call for a one on one consultation if that helps. ...george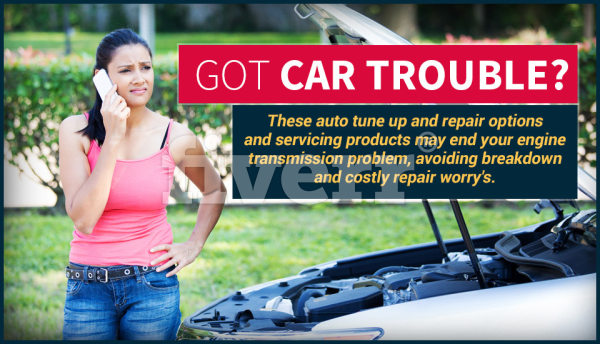 Do-It-Yourself auto-tune-up-and-repair-options.com
Mission Statement: auto-tune-up-and-repair-options.com 
Helping you learn about, and solve your automotive engine transmission radiator cooling, steering, a/c, power takeoff, problems - yourself.
The option?
Explaining the service fix products and install steps so you can do them to end your car problem. 
Unlike band-aid solutions, or costly repairs ours end the cause of their problem and guarantees quick recovery - at proud to do it yourself savings.
Harmful products warning: Compared to some engine transmission radiator and steering pre-rinses, sold as a quick flush- They aree often harmful.
That do harm... cleaning too good; stripping the protective oil off every moving surface. The is a sure cause of many engine transmission deaths. Our product/service have no harmful side effects.
Mission Statement: auto-tune-up-and-repair-options.com

 - continues...



End problem - gain a long trouble-free life benefit.
Our problem-ender is not a solvent, nor a lube stripper, but a lubing enhancer with cleaning freeing features. Selective, ending engine troubles by crawling to the hot troublesome parts; where even synthetic oil can't go - freeing, cleaning, cooling, healing - ending the causes of your car's problem. problem.
All that can be be recovered: A lost horsepower recovery bonus feature gives your car a tune up boost, to boot! Gain more zip! Ends  internal horsepower absorption while doing the fix!
Our mission is to show the solution - present - to long term. Ending both worries. Ends the expense worry about it.
Shows what to install to end future problemsyou can use all your life.
All, the best options you need to end your present car - diesel problem. Get back going down life's highway again - trouble solved!
Homepage: ... george... call if you need more help, advice. 512 665 3388