Farm Equipemnt Additives from Mega Power will help you solve their problems, lower the cost of repairs. End Operating Problems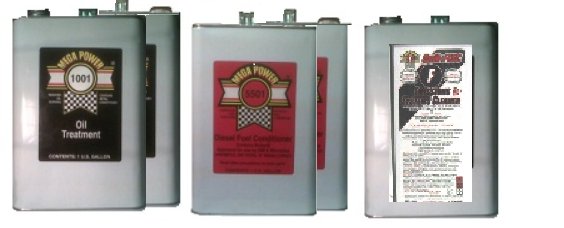 These 3 items Mega Power Farm Additives solve bumper to bumper farm equipment operating problems. Try them today and start helping your equipment overcome wear and tears operating problem load on them.
     These 3 items: Mega Power Farm Equipment Additives solve bumper to bumper farm equipment operating problems. Try them today and start helping your equipment overcome wear and tears operating problem load on them. They are best installed following directions.
What they do to help farm equipment. 
Black label Mega Power Motor Oil and Gear Box Problem Solver.
Red label Mega Power Diesel Fuel Injector Treatment.
White label Mega Power Diesel Engine Tune and Flush Treatment.
Ordering: call me... george at 512 665 3388
Order any one gallon, shipped to your door in 3 days, $125 total
Order 4 pack 4 gallons shipped to your door in 3 days $395 total.
Order 55 gallon barrel about $2000, plus shipping.
    Farmers are really the original shade tree mechanics looking for problem solving shortcusts.

    To shorten this story about their use of Mega Power.
    Farmers tested Mega Power Additives out for their equipment mechanical problem solving.
    Here's what they gained from Mega Power usage:
   To end oil loss and oil burning.
   To end blowby messy problems.
   To end seal and gasket fluid leaks
   To regain lost compression.
   To keep an older worn engine going a lot more years before overhaul.
   Run hours and hours longer on a tankof fuel.
   End smeely blck exhaust.
   To prevent rust in ful tanks in storage.
   To prevent gummed up carburetors and hard starting after storage.
     NO WONDER BUD, AND OTHERS SEEING THESE EXAMPLES COULD SELL CASES OF HiS MEGA POWER OIL TREATMENT - NOT JUST TO FARMERS _ BUT MECHANICS AND ANYONE WHO EXPERIENCE ITS WONDER OF ENGINE PROBLEM-SOLVING>

   To help older equipment start easier, avoid long warm ups, and run smooth in the coldest weather imagiable.   
More auto tune up and repair options problem solving.
   Farmers and equipment owners added it to gear boxes to smooth shifting. To differentials to end over heating to end their bogging down eating up power whenoperating cooking hot. To wheel bearing to make tractors roll easier and bearings and hubs run cooler.
   Even helping machining operations where lube and cutting or pressing problems occur.
   Car makers and ocean going ship makers called on Bud for helps solving engine problems.   Farmers must be inventive when a problem arrises with machinery.
   A $10 part could shut down a $100,000 machine... His $50 solution would be a marvel.
   When water pumps and power take offs squeaks and leaks coolant - farmers found mixing  a squirt of mom's dish soap into th bit of Mega Power cooled downed the pump and stopped the leak. Ended power take off sluggishness problems.
   There is no store or mechanic around in the field when a problem with machinery arises. And the plowing or getting the crop in can't wait on some breakdown repair. 
   No wonder farmers could see the benefit of Bud's Mega Power. They discoverd other uses for it.
   Smoothing out gear shifting problems.
   A common tractor problem is gear growl. And shifting gears, or having s friction  kick the gear shift out of gear is a problem Mega Power ended for them. 
   Framers are not all work and no play - some have race cars they run on local circuits. Those acquinted with  Mega Power's equipment problem-solving added the liquid to the oil fuels and gear boxes  - all under extreems stress and running cooking hot.
   They noticed Mega Power keep their cars running great a few extra races  - with no tear downs needed - saving them a rebuild expense. And often gave them a horsepower boost edge to win oftener.
Your second block of text...