DIY radiator service kit includes 5 Minute Flush Acid neutralizer Cool agent and Non-clog stop leak for years of 100% protection. Exceeds all car maker service specs. Guarantee.      Buy online
I like the Mega Power DIY radiator service kit because it is easy to install and takes 10 minutes to complete and provides years of protection advantages no other radiator service product comes close to.
Safe to use - non caustic

Mega Power includes the only safe 5 Minute System Flush, an Acid neutralizer, a Cool agent, and a Non-clog stop leak - with no strings pellets or solids - and works like blod on a cut to stop leaks by using air to form a stop leak  - while you drive - for years of 100% protection.
Mega Power DIY radiator service kit exceeds all car makers service specs

Mega Power exceeds all car maker service specs. It comes with a Satisfaction Guarantee or your money back!  The kit includes 3 items: Cleaner, Conditioner and Cool Agent, and non-clog stop leak.    Buy online below. Shown below.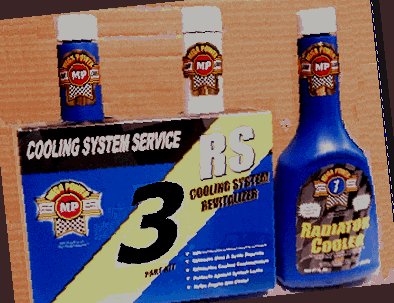 When your radiator is flushed at a quick lube or car dealership - they mean the old fluid is replaced with new - not a flush product is added and the system them flushed. Just new anti-freeze is  all you really get for $69 to $150. This DIY service from Mega Power is just $55  and includes flush, acid neutralizer, cool agent, and non-clog stop leak. [$55 plus $15s&h= $70]  2 kits 6 items, just $100. 6 kits -18 items $240. Call to ask a question or to order by phone. Call 512 665 3388
Say you read this page when ordering by phone and get our $22 fuel injector cleaner to clean the fuel system and upper motor related items for free with each kit ordered. Call now! offer to expire soon. 512 665 3388 ...george

Directions for installing the Mega Power DIY radiator service kit
Mega Power uses a simple 2 step procedure to stop overheating, gasket leaks, and core and heater leaks. And as a system flush to meet warranty specs. - usually required by all car makers every 2 to 4 years.
Step One. Add the white bottle marked RS1 on the cap to the systems old coolant. Remove  a quart of fluid to make room for the flush acid neutralizer agent. Heater on hot ,fan high.
            Run or drive 5 minutes to 24 hours as the cleaning cycle.
            Drain and capture for recycle the old fluid. Water rinse if rusty.
        2- Add items RS2 and RS3 to the radiator, then add 1 gallon anti-            freeze to the radiator 4 cylinder, 1 and 1/2 gallons anti-            freeze if a v6.     
           2 gallons for a small v8. 3 gallons if a large v8.
           Start motor with radiator cap on loose.
          After 5 minutes check fluid level and add water to fill to top of 
          radiator. Now add a quart anti-freeze to the previously
          cleaned over flow tank. You're done!

 Other details for this DIY radiator service kit, here.