Rough shifting additive helps car owners return smooth shifting  to their  car - avoiding an expensive repair.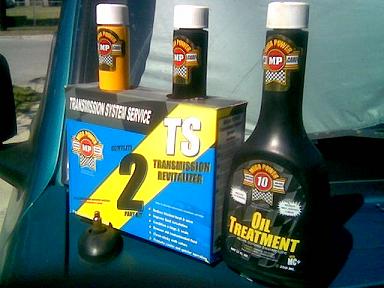 Rough shifting Contact Info: On a smartphone, to ask a question,  to order products listed, call me...george at 512 665 3388
Mega Power Products Distributing.                                                           210 Durango Street.                                                                             San Marcos, Texas 78666                                                                     Email megapower@grandecom.net
From: Area Merchants Mega Power listing. http://www.merchantcircle.com/merchant/blog/preview/501788
Have a engine or transmission problem you're looking for help with? 

Rough shifting? Chatter? Clunk at 45 to 50mph you want to end?
Sometimes, its remedy is as simple as use of the right kind additive. Sometimes it requires a $1500 to $3000 repair.
How do you known which?
Car owners are having great success returning their rough shifts to smooth with transmission treatment from Mega Power, that may be just what your car needs.
On the other hand, it may require both.
The "rub" comes when you fix it first, pay a hefty repair bill, them wonder if an additive would have done just as well! Then find out your car stills needs a repair. 
If you think an additive will work - there'a 4 out of 5 chance it will, try our Mega Power Transmission treatment. its just $75 and may be just what your car needs.  Order Now! Just add and drive and be surprised as I was with my use of Mega Power.
Ordering Mega Power.
One Mega Power Transmission Treatment. 3 items included as shown. Shipped to your door in about 3 days. Comes with easy-to-follow directions. Phone help if needed. Guarantee. Just $75
Protect both cars engine$95 and their transmission$75 with our combo deal. Just $125. Save $45. No limit. 9 items per set for both engine and transmission Just $125.
Here's how Mega Power ends rough shifts compared to other products like those sold in parts stores and quick lubes. 

Mega Power Additives contain the strongest ingredients made.

They penetrate and clean where oil cannot reach to end wear problems and restore smooth operation.This brand conditions seals and gaskets to stop leaks 
and free and lube those parts causing the problem. Just add  to oil or transmission fluid and drive. They work while you drive.
If an oil change is needed, within one hour, go have your oil or transmission fluid changed. The fluid become very dirty. The 

process removes part of your problem! Just changing 
fluid cannot correct your problem! It needs these 3 products. 
With the new fluid or oil, you add the second product.
This product heals wear-roughen pistons, bearings,
valves, and gear, worn surfaces, and conditions the 
fluid/oil - so shifting smoothness returns. Quiets, 
Restores motor performance. Last a couple years.
Order by calling 512 665 3388
Keywords: motor transmission repair help