Ocean-Plumbing CC-Tx. 78418
Commercial, Residential

New. Rework.
Emergency Leak & Sewer Service. 
Related products serviced and repaired.
Fair Prices.
Fast, Friendly Service.
Highly Recommended.
Ocean-Plumbing CC-Tx.
What a customers says of our service.
Others charge more - but you may get less and pay more!
Here's why... Compare!
Other plumbers and plumbing companies
Will send out their less-experience plumbers and assign high priority - bigger jobs to their master plumber.
You may end up with a larger-costing repair bill - as the plumber sent to you is still learning the trade. They will take longer to figure-out what to do, and what to use.
Not Ocean Plumbing!
You get me, James Christ, State of Texas Certified Master Plumber. Here is why you should call me- instead of others:
Our expertise always reduces our hourly-time charged you, and all my work comes with a No-hassle, One Year Guarantee. If the specific billed item fails, free parts and labor covered.
You also gain, from our years of local experience recommending those products; in each brand, that offers the most quality, and proven trouble-free service, for you.
And, there is this point - which speaks for the quality of work...
No code violations or complaints last 247 days. Call now! We want to be your plumber!
You'll sleep at night because we do plumbing right!
Even my wife Judith agrees with that statment!

For:

New Construction, Residential, Commercial
Emergency
Rework
Remodel
Need a bid/estimate
Have a plumbing question
Seeking employment
Call me, James Christ at 1-361-937-7284

OCEAN PLUMBING INC.
PO BOX 18788
304 GLENOAK Drive
CORPUS CHRISTI, TX 78418.
361-937-7284 OFFICE.
FAX 361 937-3116 -

Our CC Texas local area web page

Things you should know:

We at Ocean-Plumbing CC-Tx, work for the best commercial, residential builders, restaurants, and home owners.
Our Top Quality and Fair Prices comes from work experience and a desire to be among the best, most skilled in the trade.
You get our - "We have been there before, know what to do experience - and this saves you time, money, avoids one more frustration in your life.
All work Guaranteed-to-Please. 
"About me:" James Christ. I'm a working, Master Plumber.
The following are specific reasons why our work quality is
second to none, and your bill is lower.

Did you know, Ocean-Plumbing-CC-Tx., is an Eco-friendly Plumbing Company, using Hi-tech plumbing methods?
This includes: our Hi-tech-flexible-piping, made to eliminate corners and excess joints common to conventional plumbing piping - for a smooth water flow, no banging of pipes, NO LEAKS, 25 year guarantee.

Our special, Hi-Tech Camera is a small, pencil-sized device we feed into pipes and sewer line to reveal What's OK, and Spot your problem - as you watch on live TV.

Our Hi-tech underground sewer line spotter detects where your sewer line goes and pinpoints blockage or obstructions - sent up to the surface from our camera below, as we walk your property.

Also, riding on top of the camera is a hi-pressure head that sprays a razor-sharp water spray that cuts-thru, and breaks-up your stoppage, and sends it again on it way to the street. Roto-rooter, for example is old-fashion compared to this money and labor-saving technology we have for your needs.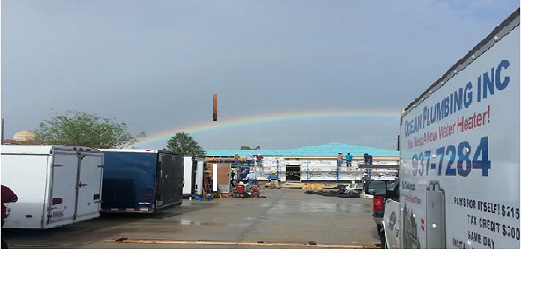 OUR EASILY IDENTIFIABLE Ocean-Plumbing CC-Tx LOGO LABELED TRUCKS ARE EQUIPPED FOR ALL RELATED WORK. LICENSE BONDED. Uniformed employees, clean logo identified trucks. Ocean-Plumbing-CC-Tx. Call us now. You will be more than glad you did.
"WE DO ALL OUR WORK PROUDLY LIKE, AS IF GOD WAS WATCHING. THIS ALWAYS PRODUCES MORE VALUE THAN OUR CUSTOMERS EXPECTED - THAT IS OUR REAL VALUE TO YOU."
James Christ Master Plumber & crew. Ocean-Plumbing-CC-Tx.
"OCEAN-PLUMBING-CC-TX HAS A GOOD NAME WITH EVERY PLUMBING SUPPLIER, CITY PLUMBING INSPECTORS, WE ARE PLUMBER-OF-CHOICE FOR TOP BUILDING CONTRACTORS. WE HOPE WE CAN MEET WITH YOU AND HAVE A CHANCE TO BID YOUR NEXT HOME REPAIR, REMODEL, EMERGENCY OR COMMERCIAL JOB. WE WORK FOR OUT-OF-AREA OWNERS."
Fax or call us for fast, friendly, reliable work and quick estimates. Ocean-Plumbing-CC-Tx.
zip-78418-Corpus-Christi area. Plumber, Commercial, Residential, new, rework, remodel, and plumbing repairs of all kinds. Fast service Fair prices.
WE DO THE FOLLOWING TYPE OF WORK: PLUMBER. PLUMBING.
"A person or company trained to install and repair pipes and fixtures, especially for water, drainage, or heating systems in a building." This includes:
COMMERCIAL PLUMBING
NEW CONSTRUCTION RESIDENTIAL PLUMBING
RESIDENTIAL REMODELING PLUMBING KITCHEN/BATHROOM/SPECIAL
PLUMBING REROUTES OLD RE-WORK & SEWER-LINE
HYDRO-STATIC & ISOLATION TESTING
VIDEO INSPECTION CAMERA
SEWER & DRAIN CLEANING
HYDRO-JET SERVICE
SEPTIC SERVICE AND REPAIR
Call Now. 1-361-937-7284-zip-78418, Plumber, Commercial, Residential, Drain and Sewer Hydro Cleaning, Live Camera Inspection. Using the latest in technology and training.
FREE PHONE ADVICE AND FREE PRE-BID ESTIMATING
Call us for fast, friendly, reliable work
THE PLUMBING CREW AT OCEAN PLUMBING INC-
JAMES CHRIST, OWNER 1-361-937-7284 Our crews are always ready and available. Ocean-Plumbing-CC-Tx. Ocean-Plumbing CC-Tx,

http://www.usa-plumber.com