Master Auto Body Repair, San Marcos, Tx
Top Rated Collision Repair Specialist.
Free Towing & estimates.
1220 S IH35 1 block south of Hi-way 123
512 396 8977 - office.
512 738 6803 - tow department.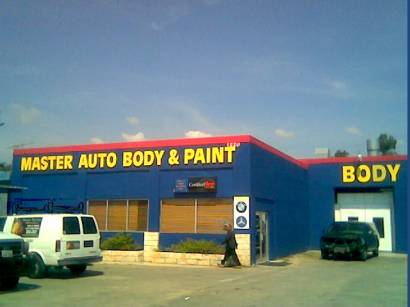 Master Auto Body Repair Collision Repair Specialist
Free Towing and Free Estimates
Top Rated. Owner and techs factory trained
Home of the Life-time Nation-wide repair guarantee
We will handle your insurance contact and repair appraisal
Call for a Free tow. Or asked to have your vehicle tow to us
Loaner vehicle while your car is being restored
1220 S IH35 San Marcos, Tx zip 78666.
Call us Now! 512 396-8977 -office.
512 738 6803 - tow department.
Customer Experience with Master Collision Repair.
"My van was involved in a serious fender bender.
I talked to several shops. Most were more interested in working out the deduction that was my share of the repair cost than how they were going to do the work.
The folks at Master Collision Repair were different. They educated me.
They - and Tony, the owner, showed me what they called a computerized-frame-strengthening-rack.
My van was tied down with special straps to this device from end to end. Laser beams were then set to specific points.

Their computer compared factory settings to those readings taken from my van. Adjustments by the technician, using hydraulic rams pulled out and undid the bent body and frame the collision caused. Re-setting each factory-set position was very accurate.

The tech opened and closed doors as each adjustments was made to make sure all doors was aligned and opened and closed perfectly.

When all settings met the factory specs and all the doors opened and closed perfectly, the van was moved to the new fender, grill and such, replacement area. I noticed only new parts were installed.

Later, several techs washed, dried, and primed painted and sanded the repaired area. [Prime paint is an undercoat painting that bonds the top coat permanently, when its sprayed on later].
Tony, explained, this "prime painting step" and method has several advantages.
"It prevents moisture from rusting under the new paint later on." He also said, "some shops skipped this step, which puts about $150 to $300 more profit in their pocket - and the customer never really knows - until later on.

"Other shops may use that money to cover your deduction - sometimes, to draw you into their shop," he said. The light went on in my head when he said that!

Tony also explained, " because this "hand-sanding" is skipped by most shops, that is why a repaired cars appearance will have a wavy-look over the repaired area, the customer may not notice at first. Master's collision repair steps eliminates the wave.
In the Hi-tech paint booth, Tony showed me special "pads" made to trap floating paint spray - instead of it being exhausted to the San Marcos air, as is the common practice.
When I picked up my van - it was washed, shined and looking new! The interior was cleaned to perfection - like the actual repair. Amazing!

More amazing was the Life-time guaranteed for parts and labor given as an assurance factor - should a problem develop.

All the insurance paper-work was done by their personnel for me.
Its been over a year. You cannot tell my crunched van was in an accident. Maybe other shops do just as good a job - but you can see, I'm sold on Master.
Another car we have is at Master Auto Repair now. Its a Beamer.
They will remove some small dents and give it a new factory-look paint job. I'm sure it will be as pleasing to me - as was the van repair they did for me." GC

More on wreck and body repair

Collision repair. Tony Likes Mega Power as an internal engine, transmission additive protector. Tony says, Try it! You don't know what your missing untill you do!