auto repair san marcos, tx, 78666
Need a good, reasonable priced auto repair in San Marcos,? Try Rudy's Auto Repair, Call us now at (512) 353-7288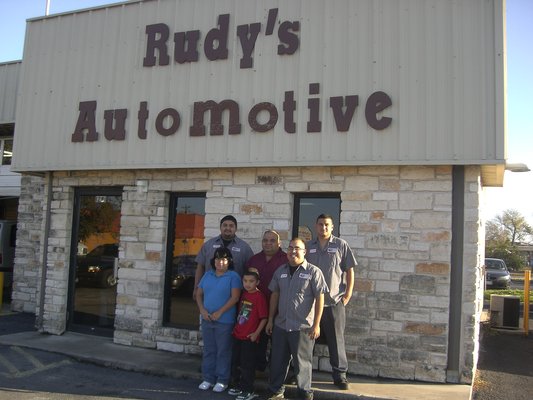 "I found that good, reasonable priced auto repair in San Marcos, is at Rudy's Auto Repair, 944 N Interstate 35 Frontage Rd. San Marcos, TX. Call him now! You will be glad Rudy did your auto repair - as I have many times!" george christ Call him at
Rudy's auto repair san marcos, tx, 78666 (512) 353-7288
Is over-priced, under-valued auto repair what you've been getting? Rudy and his staff will give you peace of mind and the end to your anxiety over your auto problem repair and its cost. Free estimates, of course!
And we'll be the best at extending your cars life and its dependability, as we know its important to you. We - at Rudy's are the Best - Voted so by county residents.
At Rudy's, extending your car's life is so because we are San Marcos only Mega Power Car Care Auto Repair Service Center. Mega Power is installed to end internal, hidden wear problems during repair. .
Why is Mega Power Car Care important to your cars lasting health - and your budget, too.
Anyone can replace a defective part, change spark plugs, and perform general repair of your vehicle. They take your money and send you down the road.
At Rudy's, we go one big Hi-tech step further, taking better care of your car, than others can.

Here's how we help you in a better way!
After listening to, and checking the vital signs, of the inside of your engine, transmission, and other components

Our training in anti-wear chemistry helps us determine the care and future service your vehicle needs, and to give it just that - in the form of an appropriate Mega Power Additive Treatment.

Mega Power works inside to change wear-rougher, pistons, bearings valves and gears back to the near-new-like function they had previously - when near new.

Imagine how that advantage - working for you over time, helps avoid avoidable repair problems, and adds to the dependability of your cars!

Your repair will be expertly done, and now your internal parts will be cleaned, smoothed, coated, and properly protected with MC+ - Mega Power's Friction reducing chemistry.

So, besides the repair, you will notice

Your car starts easier.
Idles smoother.
Runs and performs like it has a bigger motor - for power.
Yet, go 20 to 40 more miles between fill-ups, like a smaller motor would do.

That is your evidence of our ability to provide Mega Power's anti-wear protection. You can have us provide it for all your vehicles.

Over time, you will see it provides years more dependable service to your cars and trucks. It's what we do to our cars and trucks - we know it helps!

This is what our special expertise can do for you, your budget, and your cars future longer, trouble-free life.

That is more than than anyone else can do for you in San Marcos!
auto repair san marcos
Need good auto repair and anti-wear care in San Marcos, Tx?
Try us, Rudy's Auto Repair, Highway 123, next to La Hacienda Market.
Rudy's is who to go to for for auto repair in San Marcos.
Call 512 353-7288 for an appointment - or just drive in. Towing available. Tell the toe driver to take your car to Rudy's.

More... about Rudy's Auto Repair San Marcos.

More about Mega Power Car Care Problen-Solving Products