This engine system cleaner restores oil flow, quiets valve tap, ends oil burning, restores power. Also adds MC+ to end friction and wear caused problems - 3 ways, promoting years more dependable car life
Engine System Cleaner Contact Info: On a smartphone, to ask a question, order items listed... call me...george  at 512 665 3388
When you want an need an additive to clean your engine -[and transmission, also] the above engine cleaning treatment  from Mega Power I feel, is the only product around to clean, that also frees, heals, and protects the oiling system and every part of your motor - even giving worn motors a second lifetime of dependability.
Made to service-by-cleaning 6 engine systems, and does so as you drive!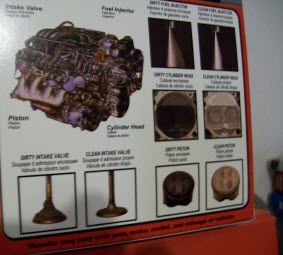 The 6  engine system cleaner treatment- cleans - see picture, by adding to the gas and motor oil and then driving.
In a simple but very effective 2 step method, cleaning occurs from gas cap to exhaust pipe - providing very professional results at 1/5 the price [under $100] that car dealers [$450 up] charge - But adds 2 $150 engine restorative and dependability advantages - that saves dirty, even worn engines  - Mike says, from an expensive repair  [as long as there are no broken parts], and your budget, too!
Does this sound like what your engine needs?

In a simple but very effective 2 step method, Mega Power's engine system cleaner cleans from gas cap to exhaust pipe - providing very professional results motor clean and restorative advantages at 1/5 the price car dealers charges -
Click on the buttons on the left and order online