The product to end high mileage,  power loss problems cleaning 

with MC+. 


See HOW TO end costly repair needs with its tune up, revitalizing effect!
A new new cleaning product restores a motors lost, like-new power, performance, fuel economy - regardless of age or size - and for about $75, not $2000. Nothing else found produces such like-new results - at any price- guaranteed!


Introducing:
The Mega Power Worn Motor Oil Treatment.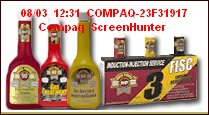 Did you know?
This is today's better way to solving your motor problem.:
Unlike additives that are weak, cheap rip offs from

part stores and online sites

that claim one bottle corrects years of now trouble causing problems in your engine. 

We found from field results it takes these 6!

Ours is guaranteed the strongest amount and in volume to do as advertised, or your money back ...and it treats your motors 6 sub-systems, not just do a weak flush! Take your money and run! 

I'm here with online help at no change to help if still a problem - that's should be worth alot to you - from now on.




    Other brands just treat the oil or gas. or the oil - and with a water-down mix.





Mega Power's success is because it is the strongest professional grade sold anywhere - and we have patents on some formulas.




    Its chemistry seeks out and ends the causes of wear and performance problems wherever gas, oil, air, combustion, 

emissions and exhaust go.




This is why our product works so well.
New. Stronger, Guaranteed Safe ingredients.
Includes ingredients not found in other brands. See story below on harmful products sold to help your motor.

Mega Power motor oil treatment contains a new breed of heat and pressure-activated cleaners and protectors.
They go where oil is squeezed out or cooked.
To do what's needed to restore smooth, clean, freely moving operation again - removing the cause of your motor problem.

This Mega Power motor oil treatment product includes coverage from the gas cap to the exhaust pipe tip and all in between.

Contains the strongest, fastest-acting fuel injector and combustion cleaners discovered. One of 6 reasons for the "instant improvement results" promised. Others include...

Includes two different motor oil and metal surface conditioners - as part of what makes it work.
    The one actually reduces friction.

    The other rebuilds worn surfaces - almost like what expensive newer parts would, but easier, instantly, and way less costly to your budget.


Those advantages are what will help out-of-warranty cars and trucks end the problem - as long as nothing has actually broken, yet. If not, order today! Keep it running great, longer.
Customers tell us so.
That is my own experience, and those of many others who depend on this product to keep our cars and equipment going strong and trouble free.

You will easily see the same. You will see how well this treatment puts-off, and avoids the need for costly, engine dis-assembly, and its expensive hand cleaning procedure - referred to as a motor overhaul. I admit, overhaul is the better way to solve worn motor problems. However, ....

If you are looking for such important short-cut advantages for your car, order this product today! Enjoy a great running car again - with Mega Power's help, like many us do.
Guarantee
The Mega Power Worn Motor Oil Treatment comes with a money back guarantee. No refunds ask for last 183 days. Try it and see with no risk.

Comes with my personal install method - I'll show you. You can ask for phone help on installation - that what I'm here for. It's easy, driving does the fix.
Common engine problems product advantages end.
Quiets years of noisy, worn parts banging around with its co-polymer coating that fills worn spaces.

Restores like-new performance to cars, trucks, RV's, and tractors by cleaning combustion side pistons, rings, valves, and spark plugs.

Restores smog lowering levels by cleaning emission, and exhaust recycling parts, and by opening clogged catalytic converters.

You may have seen the friction reducing ability in the demo link mentioned above.
If you read this far into the review, this is just what you need to restore your motors like-new power, performance, and fuel economy. Ordering info below...
Typical problems ended or corrected by the Mega Power Worn Motor Treatment.
Stop oil burning and exhaust smells and smoke
Stop oil leaks - at seals and gaskets
Stops combustion blow-by
Ends the cause of dirty, black oil just after an oil change
Stops and quiets noisy valve, lifter tap
Cleans fuel injectors, idle system, combustion, spark plugs
Many mechanics use this treatment to lower high exhaust emissions and pass State Emission Test.
Car owners install this product themselves, with my phone help, if needed - and save the labor charge involved.
About me and Mega Power.
Mega Power is the leader in this field.
About me.
I'm a special kind of mechanic who is an expert in the understanding of what additives work and how they do so, to end problems. I'm also a Factory Distributor of Mega Power Products, a leader in the development of problem-solving products.

My job includes helping you solve your problem with Mega Power.

I also teach mechanics the Mega Power Product expertise needed to end dozens of specific problem new, and older, even worn cars have - including the use of this product, the Mega Power Worn Motor Treatment, reviewed here.

If you have a question about using Mega Power in your business, your car, truck, or equipment fleet servicing, or need car care help as an individual, call me.

I can help you with tips, advice, products. I am a mechanic with 30 years dealership and shop experience. I am a marketing and promotion expert - for the business owner.

This site is my educational method to help the public and the tune, lube, and repair trade keep up to date on what's new.
Ordering Information
The Mega Power Worn Motor Oil Treatment - pictured above includes 6 products. 3 for the top of the motor. 3 for the bottom oiling side. Works on any older, worn, but sound-running car, truck, RV, or industrial motor.
One Mega Power Worn Motor Oil Treatment includes 6 items.
$60+ $15s&h= $75 total.
Includes instructions, guaranty, my personal phone help, if needed. Shipped to your door. Link below has actual directions.
Order a treatment for you and for your wife, or kids car. Save $15
Two Mega Power Worn Motor Oil Treatments for two cars.
12 items. $135 total.
Includes instructions, guaranty, my personal phone help, if needed. Shipped to your door. Link below has actual directions.
Order now by calling me .... george, at 1 512 665 3388


Mega Power Worn Motor Oil Treatment Directions

Home page site index of 101 DIY vehicle fixes