Mega Power Brand Engine Transmission Additives. Ends power loss, end performance problems as you drive!
New types of engine transmission additives shown here are ending operating and mechanical problems  - Helping car and equipment owners care for and maintain their vehicles in a better, cheaper way. 
End costly to repair engine transmission problems by cleaning smoothing and coating, where oil cannot go!

Introducing: Mega Power Engine Transmission Additives

Join the many car and equipment owners who ended their wear, residue, Hi-mileage, and performance decline problems.

And found a better, cheaper way to avoid car and equipment avoidable repairs.

And have a better running, longer lasting car for doing so!

...like this typical customer did. Gets you on down the road of life again,not thought possible before.
To George Christ
I'm very pleased with the results from using the Mega Power worn motor treatment in my Ford F-100, with a 302 engine.

I purchased this from you about a month ago.

Before installing Mega Power in the motor, I was scared to drive my truck even to the gas station for fear its knocking noise, or whatever it was, was going to break the engine.

Not now though. All those engine noises are gone. And so is this problem.

Before Mega Power was installed in the transmission, I would have to increase the engine speed between each gear shift to keep the engine from stalling.

After the transmission Mega Power was in for about a day, the car could again shift from 2nd to 3rd, and 3rd to 4th gear smoothly, and the motor would stay running without stalling, as it use too! Pretty amazing, I'd say!

Your products have help me avoid a costly repair a mechanic suggested, was needed. Your Mega Power products and advice has saved me that expense.

Also, I have a '93 Toyota Corolla, 1.8 litre, fuel injected engine with about 198,000 miles on it and I thought the worn motor treatment would be great for it, too. It runs great, but it is getting up there on miles and seems like a good idea to keep it that way with your additives.... Send me a Mega Power Treatment for it, too. Will you please.

I thought I would let you know what the results were and how your method of care made my truck run like almost new, again - just as your ad said it would. Thank you. Laird B.

If you read this far on the page, I'm sure you need to order Mega Power to end your cars wear problem and enjoy it former zippy condition again, too, just as Mr Laird is again enjoying his truck again!
Why Mega Power works
Mega Power works because it is a treatment with problem-solving ingredients like MC+ friction remover. Mega Power's MC+ Conditioner


Mega Power has found 6 ingredients to make any motor and transmission run like a bigger, more powerful car or truck runs like.


In your engine and transmission, your vehicles will also run stronger, and shift smoother, while ending any performance problem they may have.


As the video shows, friction is a power sapper. Cleaning and reducing friction is what your car and your budget needs.


That advantages is what helps you go 20 to 40 more miles between fill ups, like a smaller motor would give.


No other product can put-off the inevitable repair for years. As you seen in the video, Mega Power does so by slamming the breaks on rapid wear out! And by ending problems older, worn engines and transmissions have.
Isn't improvement and protection like that for your car and truck what you want? Sure it is!
Call me for the help and products suggested below, you need for your problem.
I'll advise you what to order and how to install them. I'll be with you over the phone to walk you thru the installation - so you have the same experience as Mr Laird had.

I'll guarantee the improvement you need to your satisfaction, also!
The following links cover what
Mega Power Treatment you need! Mega Power is easy to use and results occur very quickly. I'll show you what to use, and how easy it is.

Ordering info and prices on the page link you go to.

On that page my phone number is listed to call in your Mega Power engine transmission additive order to me. This way, you have the only real help around to end your cars wear and tear problem, too!
These links have what you need to end motor problems you are worried about.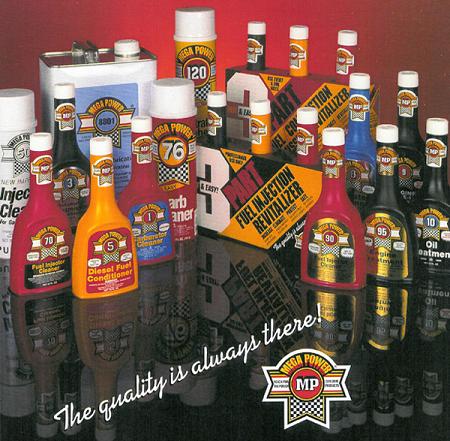 Have a Transmission Problem?
The following links introduce you to the Mega Power Transmission Treatment.

It is one of the best protectors ever invented to end transmissions [and power steering problems]. It includes MC+ conditioners found to end transmission problems when nothing else can. GC

Reduces slippage
Stops rough shift
Cools, prevents overheating when towing
Conditions fluid against sludge, acid
Friction modifies with MC+. An Anti-wear
Prevents and stops leaks

Ordering info and engine transmission additives prices on the page link you go to.

End your power steering leak, growl, and steering problem with this Mega Power Product.

What is MC+? How can it end my cars wear problems?

Try Mega Power engine transmission additives with confidence. No refund asked for last 221 days! Call in your order - get it in your car, get on down the road of life again - trouble-free.

To Order. Call me 1 512 665 3388. I'm at the ordering desk. I'm a mechanic.

I'm here to answer your car and equipment engine transmission additive questions ...george

I'll shipped exactly what you need directly to you by FedEx.

Each product includes easy to follow instructions, no special tools or skills needed. Personal help from me by phone when installed - that's my job! Money back guaranty. Just pour-in and drive. Driving ends your problem in a day or so..... George

Mega Power engine transmission additives will help your cars and equipment run great again. Then stay that way!

Your paying for them so you might as well benefit from them. Order them now! You will be glad you did.

Mike's engine transmission additives experience -


');