New engine performance additives removes more power-robbing carbon, stops power-sucking friction drag. Restores zip, performance, fuel economy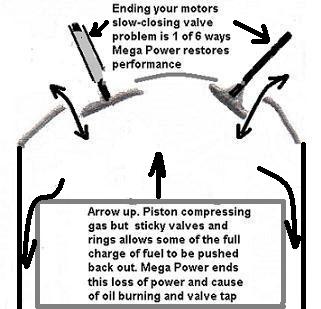 New Engine Performance Additives from Mega Power
Offer better car care maintenance, and performance improving advantages to cars, trucks, tractors, equipment, RV's, and industrial equipment.
This is possible because
New chemical technology is able to penetrate the molecular levels.

This is where problems develop, lowers your cars full power developing efficiency, and causes the motor and transmission to absorb more power, transferring it to your wheels.

That is why this product is the first to succeed.

Note the two-way arrows showing this problem in the above drawing - showing sticky or tapping valves. This is one area where the chemistry is able to help end your motors problems.

Those negatives worsen as the miles add on, as you already know.
Here is what's new in engine performance additives will help your motor and transmission end their performance problems, run great again, shift smoother too, and last years longer while doing so.
What use to take pulling your motor apart to hand clean it and replace worn parts, costing $3000; this chemical treatment can do for under $200.
The 6 ingredients...
These new engine treatments, containing the newest chemical technology that cleans, frees, and heals wear roughen piston, bearing, shaft, valve, and gear surfaces. It adds anti wear for longer life.

A new fuel system and fuel injector cleaner that also helps clean the idle system and spark plugs, for more power, smoother idling.

A chemical to free and clean residue choked oil passage ways and the valve lifter check valve to open them and stop lifter tap.

A new additive to free both the top and bottom piston ring to stop blow by and excessive oil burning.

A friction reducer that works by changing wear rough surfaces to smooth under conditions when oil breakdown occurs - such as at start up, going up hills, and carrying heavy loads - or towing.

A co-polymer that layers itself to build the surface of worn on piston, bearing, shaft, cam, and gear for a stronger, like-new quiet motor
This is the first complete set of engine performance additives that covers every part of your motor and is a true motor treatment.
It works as you drive to restore power fully in a few miles of driving.
To order this product - pictured above, shipped by Fedex to your door, with instructions, and my personal installation help by phone if you need it: is $99 shipped to your door. Add $50 labor if your mechanic installs it.
Have a question? To order by phone call 1 512 665 3388 ...george
MC+ Reduces Friction Wear
New Mega Power engine performance additives improves engine performance fast cleaning, pistons, bearings, valves, injectors, combustion area Mega Power Engine Performance Additives

What one customer said about this product.