Automotive Additives Problem Solvers For Dummies.
Making it easy to tune away your engine, transmission, radiator, steering, and a/c operating problems.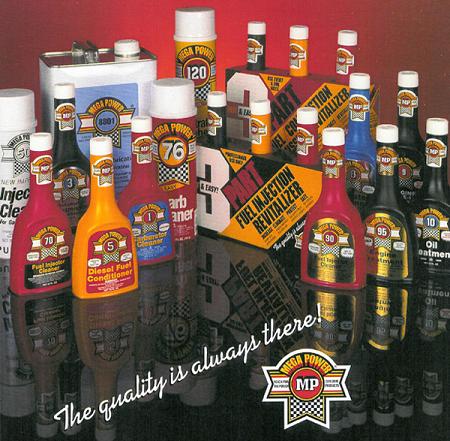 Automotive Additives anyone can learn to use easily to end their fuel injector, engine, transmission, radiator, power steering, and a/c problems with. Made easy by Mega Power Additives and me explaining their what to use where and why. Their on-going cleaning, friction removing, and slow wear inducing features help mechanics, farmers, equipment owners, and individuals keep their vehicles healthy and rolling down life's hi-way.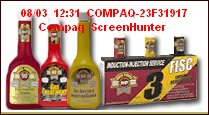 Take Care of your engine problem-solving, top to bottom. Install Mega Powers Slo-Wear Tune-n-Protect Engine Treatment. The strongest professional strengths covering top to bottom engine servicing. End engine problems. Dealer charge? To $1500. $100.
 > Take Care of your engine problem-solving, top to bottom. Install Mega Powers Automotive Additives. Slo-Wear Tune-n-Protect Engine Treatment. Just $100.
   The easy to install automotive additives kit from Mega Power covers top to bottom engine servicing. It will have your engine running great in no time. Their clean, free, smoothing, and friction eliminating features gained by adding them as shown to the fuel tank, and motor oil, = twice, exceeds what most Pros and Car Dealerships use - Exceeds the 25,000 mile New Car Makers Engine Warranty Servicing, too. Has a 30 day Free Trial Guarantee included. Treatment Products Includes:
Fuel Injector Cleaner
Combustion Carbon Removal
Piston Ring, and Valve Cleaner
Engine Sludge Removers
Friction Remover and Rubbing Surface Smoother
Lube oil Enhancer Anti-wear
  This $1500$ automotive additives value - is priced at $100 on sale if you supply the labor. Now made easier than ever to install by anyone. Product retail value $250. A Do-it-self, made easy, pour-in and drive Complete Engine Treatment from Mega Power Automotive Additives. Outclasses what the car dealer charges for $1500. Its superior features cannot be matched by BG, Wynns, or Valvoline Copy-Cat versions the car dealers use - to prefer profit over quality at your expense.
   Sent to your door with instructions and phone walk thru's for first timers. Avoids operating and mechanical problems, by returning a like-new again operation - No skill or tools needed. Driving and an oil change a week later required. Last 25,000 miles. Touch ups at future oil changes for worn engine endurance, $40. 
Ordering: Mega Power Engine Additives Engine Serving Treatment. 6 items to return your engines like-new performance by cleaning and conditioning. Sent to your door in 3 days. With Directions and Free Phone Guidance. $250 value on Sale, just $100 plus $15 s-n-h totals $115. Click cart button to order now. Secure ordering promised.
The help automotive additives give for better car care and repair.
   You know cars and equipment need help to make your life easier, more profitable, decades longer. Oil changes and fluid changes can't avoid their sudden appearing operating problems. More help in the form of additives are needed to do that. 
   That is what these Mega Power Automotive Additives can do for you.
 I've made it easy and profitable here at auto-tune-up-and-repair-options.com to do so by putting the 3 essentials needed, together with directions to do so.
 Why Mega Power Automotive Additives kits are the only way to make additives help vehicles. 
   Like making bread with a recipe, you need specific additives to add in the right sequence to work. That's my job to show you that recipe.
The Automotive Additives needed by street proven results. 
   While better design, oil, fluids, and the computer help, they do not stop heat, metal to metal contact, fluid breakdown, with acids and sludge from growing. You need additives to reverse the harm they cause:
Add specific ingredients found to stop the present and future problem.
Begin by cleaning out acids and sludge causes before oil and fluid change out.
With the new fluids add conditioners to keep sludge from forming during the life of the oil and fluids they can't.
Add friction modifiers with the conditioners to smooth, heal, an aid movement oil can't.
Add a specific ingredient found to stop the problem.   
For motors it takes a 6-part kit shown on this page. 
For all the other vehicle components it takes a 3-part kit shown on this page or other pages covering those component servicing.
And menu buttons stating the problem you need solved. 
By calling me for advice and phone ordering.
By clicking the cart button to order online.
The new power you gain knowing and ordering these Automotive Additives here for you.
    Those causes remain when oil and fluids are only replaced with new. They do not the remove real troublemakers. You need to find and buy additives that do so.
   That's my expertise gained from being taught by Wynns' Friction Proofing additive inventor and his Distributor, the Justice Brothers, and by Bud Easterlin's Mega Power Additive Schooling. With help from street experience and from thousands of auto repair shops who added to my field of knowledge, while I teaching them. 
 The essentials to understand how
vehicles are helped by Automotive Additives.
From the first brand new thousand miles your vehicles shorter, troublesome life is began. utuand what to add to get the 3 essentials into  them to the fuel, fluids, and oils periodically. Adds driving enjoyment, protection, and wear problem-solving by bringing out each vehicles hidden, more powerful attitude. Does so with its on-going clean, friction removing, slow-wear inducing features that stops their downward slide. Maintain the like new. Helps mechanics add those essentials to existing parts to complete repairs. Adds anti-wear to fluid servicing. Makes for decades longer life at lower cost possible. Keep away costly troubles doing so. I'm providing Do-it solutions to do so. Add driving enjoyment. Cut in half life's biggest cost.The only 6 auto additives you'll ever need for any motor fuel tuneup transmission cooling or any leak problem. Order online. Results guaranteed.
Just add and drive. Driving does the actual fix.
Ends problems inside where they originate with these Automotive Additives
The success comes from new anti-wear chemistry from Mega Power - which also provides years more dependable service - a benefit other products and regular tuneups cannot provide.
To end valve tap and engine noise Valves. Why they make a tap sound. Additives to quiet the tap noise. What you should know Its Not Just a Tap. Its an advance stage of wear-out at work - explained below, along with its remedy to end. Our Mega Power Valve Tap remedy ends the tap, slams the breaks on wear, and helps extends car life
To end oil burning, exhaust smoke, loss of power To end motor seal leaks, gasket leaks, coolant leaks To remove carbon, clean dirty fuel injectors, pass emission test To end transmission rough shift, jerk, slipping, leak
To Stop power Steering squeal, hangup, whine, leak Power steering problem Help is here. This product does the fix in minutes and is $1500 cheaper. The Mega Power, Power Steering Service Treatment. * Ends jerky turning * Hang up * Squeal * Leak. * Restores smooth steering, turning in just 20 minutes * Stops leaks. Ends need for an expensive repair. * Ideal for rack, pinion, steering gear; foreign or domestic cars and heavy equipment.
To end radiator and gasket coolant leaks, overheaing, coolant loss A new, tougher breed of Radiator and Cooling System Problem-Solving Products Directions and Ordering Info New, simplyfied 2 step, Mega Power Cooling System Service. Mega Power Cooling System Service. Takes 15 minutes. Protects up to 4 years
To end stick shift and differential howl, overheating, growl, whine, grind when shifting, friction wear problems
Sign up for our blog. See the latest tips for Automotive additives for dummies car care.
Click the links for the specific automotive additives for dummies help you need. Automotive additives for dummies site contents list