Turns synthetic oil into a motor oil lube, super lube and metal anti-wear. Restores like-new power as it ends valve tap, oil burning, and leaks.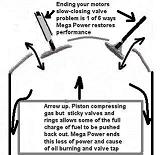 motor oil lube, oil treatment, oil conditioner, motor protector,
Mega Power's new motor oil lube ends tap oil burning leaks.
As you know, synthetic motor oil
What is needed to end those problems?
Answer: the Mega Power Motor Treatment
Ordering Info
One Mega Power Motor Treatment Includes 6 items shown. Easy-to-follow directions. Phone help if wanted. Satisfaction Guarantee. Shipped to your door by FedEx in 3 days. Just $65, plus $15 s&h= $80 total.
Order 2 Treatments for 2 cars, save $30. 12 items. $115+ $15s&h=$130 total. Not $160. Subject to any advertised price increase. Order Now! Same satisfaction guarantee.
To ask a question or order by phone, call me at 512 665 338 - day or evening ok. At 512 665 3388 ...george Goes where oil cannot.
Turns synthetic oil into a motor oil super lube and metal conditioner anti-wear.