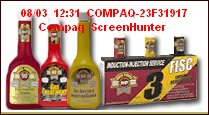 Mega Power's cold starting problem treatment.
Why better than part other brands.
Why very different!
Mega Power's cold starting problem treatment
Dissolves the clusters that form and won't burn when diesel fuel is cold.  Spread around in the fuel and thinned out, fuel is easier to self ignite.
Otherwise, combustion will not start. Starting is harder, black exhaust smoke appears. All of which does not occur upon using Mega Power.
Other advantages.
Makes moisture burnable - rather filtering it out.
Neutralizes acid formation [acids sours the fuel= bad]- which sweetens [sweet is good]the fuel. Cleaning properties no one can beat. This ends sticky carbon buildup in the combustion area.
Mega Power Oil Treatment: This Oil Conditioner works similarly to that in the fuel, but for motor oil and gear oils.
Mega Power Oil Conditioner prevents sludge cluster formation as the oil becomes dirty - flows easily up to the time its replaced. This takes the drag out of the oil so the motor spins as if warm - when cranking and running when cold - when the oil runs pass extended drain intervals - which may happen more times than you like.
Super ingredients MC+ ingredients actually reduce friction drag of upon metal-to-metal contact - smoothing, to eliminate abrasion, again allowing pistons bearings and gears to slide upon each other - with minimal friction drag.
Help brand new and older, even worn engines and transmissions run better, smoother, longer.
Since acids, residues, and friction are negatives that causes more difficult ignition, incomplete burning, black exhaust, its best to control them with Mega Power.
More drag is harder for parts to slide and turn freely.
Reverse that with Mega Power, and you instantly have easier frigid weather cranking, faster starting, smoother idling, greater pulling power up hills. Reduced fuel requirements. Reduced smoke particulates.
Just add and drive. It works as you drive.
Cold weather engine help.
Call for more information and prices. 1 512 665 3388
Helping motor and gears run smoother and easier - reduces fuel requirements - and economy gains can add 25 to 100 more miles driving distance on each fill-up.
How it stops black exhaust smoke.
Mega Power removes carbon in the combustion areas - the cause of wetness that burns diesel incompletely. Carbon film acts like a blotter, soaks up fuel in and around the combustion area, makes rings sticky – causing more combustion blow-by and heavy blacking of your oil.
Cleaning valve stems of residue - which acts like tar, ends another cause of power loss and lousy fuel economy. Sticky valves and piston rings cause valves to close a bit slower and increase blow-by. A negative to reducing needed horsepower development.
Those are the 2nd and third causes of why your engine does not start as easily, idles rough, takes longer to warm-up, and why performance on hills is not what it use to be.
So, you pump the pedal to jam more fuel into the process. No good! MP ends these and other cold weather, wear and performance-based problems.
It's time for…You now need a real fuel and engine treatment. The MP Dual Fuel Conditioner and Motor Treatment.
Just add Mega Power to the fuel and oil - and go! Results are instant – in minutes! That's the Mega Power way!
A Mega Power Treatment...Includes fuel conditioner, pump lube, injector cleaners, combustion an emission system cleaner, oil treatment with friction modifier and co-polymer protective anti-wear.
Easy to follow instructions, our guaranty of satisfaction.Some packages include power steering, gear box, differential, and cooling system protectors.
See package for coverage.
Package for cars and pickups, large trucks and heavy equipment.
Ordering Mega Power.Some packages include power steering, gear box, differential, and cooling system protectors. See buttons for package coverage.Package for cars and pickups, large trucks and heavy equipment. 
The Mega Power Car Pickup Cold Starting Treatment. Treats a car or pickup fuel system $60, motor top and bottom cleaner $95, transmission service $75, power steering service $75, and radiator system service $55. 12- 12 oz items do so Easily to follow Directions. Phone help if needed. Shipping and handling Free on today's order. Winter Sale. $360 regular price. Now $195 total. Save almost $100.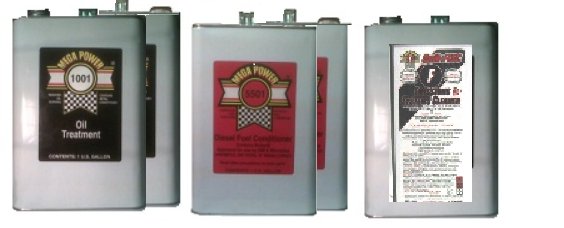 Mega Power Heavy Equipment Treatment treats large truck, tractor fuel, motor transmission, steering.
Truck equipment: Mega Power Heavy Equipment Treatment. Treats a large truck or tractor fuel, motor top and bottom of motor, transmission, power steering.
Bonus $39 radiator protector, Free with order for limited time. 5 one gallon size items and 1 radiator item. Shipping and handling, usa, $450+$40 s&h= $490 total. A $600 value.
          To purchase by phone or ask a question about a problem or product, call 1 512 665 3388. george
A diesel link is given, as well as motor servicing for your older, worn motor and transmission.
Adding a quart of O weight oil will help dilute the tar-like goo your motor collected and prevents easy starting in cold weather.
Be careful with "Starting Fluid." Spay for 3 seconds into the manifold - but not when cranking the motor. Repeat, if necessary.
Change your oil to a "O -W or 5W weight oil as soon as you can today. In the spring, change to 10w 40.
End cold starting problem.