Army NASCAR Racing Car. Daytona 500.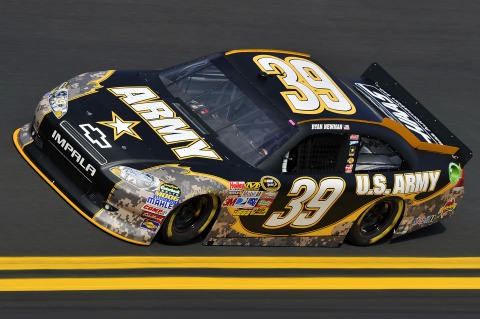 Army NASCAR sponsorship on way out if Betty McCollum, D-Minn., has her way. Front page story from Racer.com. Picture.
Story details...Racer Car news from all over the world.
Army Nascar entry. Daytona 500.

A U.S. Congresswoman has launched an effort to force the U.S. Army to drop its sponsorship of NASCAR, in opposition to the widespread practice of motorsports sponsorship by the U.S. armed services. While military-branded cars appear in IndyCar and the NHRA, the prominence of NASCAR is evidently a sticking point for U.S. Rep. Betty McCollum, D-Minn., who singled it out for elimination in an amendment she introduced as part of a federal spending bill.
"None of the funds made available by this Act may be used by the Department of Defense for sponsorship of NASCAR racecars," she wrote in the text of her amendment, which is one of more than 400 that lawmakers are attempting to attach to Rep. Paul Ryan's spending bill to fund the government through Sept. 30. The bill is scheduled for a vote later this week.
"This is not only putting a sticker on the car," McCollum's chief of staff Bill Harper told The Wall Street Journal. "This is paying for a race team. That doesn't contribute to military readiness. It's just a waste of money."
The Marines, Navy and Coast Guard dropped their NASCAR sponsorships in 2006, but the WSJ reports that the Army spent $7 million on NASCAR endorsements last year, down from $11.6 in 2009. The Army contends that NASCAR sponsorship is a key part of its outreach to potential recruits. Ryan Newman (ABOVE) carries the Army colors in the Daytona 500 this weekend.

Daytona 500 home page

Indy 500 web site

Engine Transmission Heat, Friction-Reducing Additives